CMPD and The Charlotte SWAT Team responded to a call this morning regarding a suspect who had barricaded himself inside his home with a reported weapon.
The suspect was wanted for several outstanding warrants as well a being a suspect in an armed robbery last week.
At around 10:30 this morning, multiple law enforcement agencies were in front of the suspects home at 927 Sparrow Valley Way in North West Charlotte: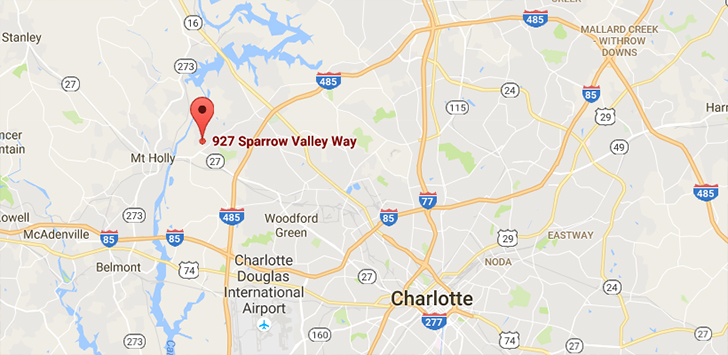 SWAT officers leaving the scene of standoff in NW Charlotte. Police have told neighbors it's over but no details yet pic.twitter.com/JR9bKE7txy

— Mark Becker (@MarkBeckerWSOC9) December 13, 2016
#BREAKING VIDEO: @CMPD SWAT team mobilized in Catawba River Plantation. Person barricaded inside house. Active scene #WatchWBTV #CLT pic.twitter.com/wFYyVzCIW0

— Mark Davenport WBTV (@TheDavenReport) December 13, 2016
Once the CMPD negotiators and SWAT Team arrived, they attempted to ask the suspect to surrender peacefully, when he refused to come out, agents breached the premises.
Several minutes after the breach, CMPD reported that the man had died inside from a self-inflicted gunshot wound.
CMPD's SWAT Team responded to a barricaded subject in the
900 block of Sparrow Valley Way. (1/2)

— CMPD News (@CMPD) December 13, 2016
Male suspect found deceased due to self-inflicted gunshot wound a short time later inside of residence. (2/2)

— CMPD News (@CMPD) December 13, 2016
The CMPD homicide unit has just started conducting an investigation, per standard protocol.
A number of people on social media are saying the deceased man's name is Timothy Andre Davis, but this has not yet been confirmed by CMPD.
There are also already over 100 posts on social media claiming that CMPD killed Timothy Davis (with no evidence or reasoning).
Braxton Winston arrived on the scene soon after the incident and began interviewing neighbors and police officers.
His video has already been viewed over 18,000 times:
We will update this article as we receive new information.
Comments
comments