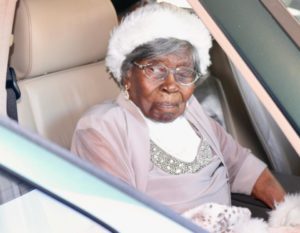 116-year-old Charlotte resident Hester Ford, the oldest living person in America, has just died with her loved ones at her side.
According to a statement from Ford's grandaughter, Tanisha Patterson-Powe, "It is with great sadness that we announce the passing of our beloved Mother Hester McCardell Ford today. She was a pillar and stalwart to our family and provided much needed love, support and understanding to us all. She was the seed that sprouted leaves and branches which is now our family. God saw fit to make her the matriarch of our family and blessed us to be her caretakers and recipients of her legacy."
Ford was born on August 15, 1904, in Lancaster, South Carolina and first moved to the Queen City in 1953 after being born and raised in Lancaster County, South Carolina. She raised 12 children and has helped to look after 58 grandchildren and at least 120 great-great grandchildren over the years.
Even though she was over 100 years young, she still has an incredible memory. A few Years ago, WBTV posted a video of Ford reciting Psalm 23 completely from memory. The video quickly went viral and has now been viewed over 6.6 million times;
Comments
comments