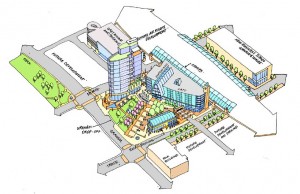 Thanks to our former mayor and current US Transportation Secretary, Anthony Foxx, the city of Charlotte has just won a massive $25 million federal grand to help build the uptown Gateway Station.
The grant was part of the federal government's Transportation Investment Generating Economic Recovery (TIGER) program.
The $25 million will help pay for design and construction of Charlotte's massive new 'grand central station'. Plans for the area go far beyond just trains. The city is envisioning a massive terminal that will combine passenger train traffic with the light rail, street car and city bus systems.
"It will unlock lots of private investment, it will shape that investment to create a walkable zone around this station." commented Michael Smith of Charlotte Center City Partners.
Although this new grant is a major step forward, we still have a ways to go. The total Gateway Station project will cost an estimated $150 million to $200 million, and it isn't yet clear where the rest of the money will come from.
The city's transportation budget is already stretched thin by the new $1.1 billion Blue Line Extension, and the upcoming Silver Line Extension down to Matthews..
What do you think about the new Gateway Station?
Comments
comments