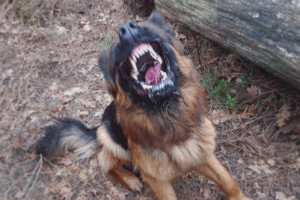 The US Postal Service recently released its annual count of postal employees who have been attacked by dogs last year. USPS noted that there were a total of 6,755 attacks in 2017 – 200 more than 2016.
Charlotte came in at 18th in the country for mail-man/dog attacks last year, according to rankings, just behind Phoenix, and just ahead of Memphis on the list.
There were a total of 33 attacks last year in Charlotte, 18 of which required medical attention.
The US postal service releases the dog-attack numbers as part of Dog Bite Prevention Week, along with some advice on how people can keep their dogs from biting letter carriers.
Some of the top tips included;
If a letter carrier delivers mail to the front door, put the dog in a different room. Dogs have burst through screen doors and plate-glass windows to attack visitors.
Some dogs might perceive a letter carrier handing mail directly to a family member as a threat, so the postal service advises not taking mail from letter carriers in the presence of the family pet.
On USPS.com, people can indicate whether they have dogs at their address. This helps fill-in letter carriers who don't know all the neighborhood hounds.
The statement by the Postal Service also noted that it places the safety of its employees as a top priority – if a letter carrier feels threatened by a dog, or if a dog is loose or unleashed, they will not hesitate to ask the homeowners to pick up mail at a post office until they can prove the pet has been restrained. In light of the continued increase in attacks, many mail carriers have even started carrying protective dog spray.
What do you think should be done about this growing problem?
Comments
comments