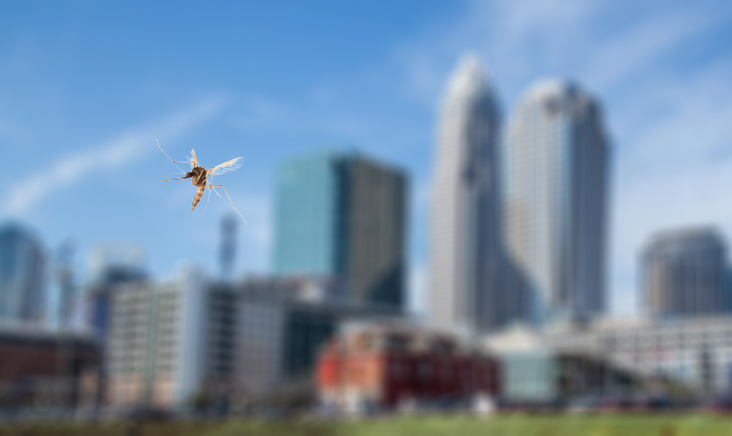 Orkin has just released their new list of the Top Mosquito Cities in America.
Atlanta now tops the list for the 4th straight year followed closely by Washington D.C., Chicago, and New York City. 21 of the top 50 cities are in the Southeast.
They compiled their list by analyzing all mosquito-related calls over the past year.
According to their data, these are the top 50 mosquito-infested cities in America (and their adjustment from last year's ranking):
1.Atlanta
2.Washington, D.C. (+1)
3.Chicago (-1)
4.New York (+1)
5.Miami-Ft. Lauderdale, Fla. (+8)
6.Dallas-Ft. Worth, Texas
7.Houston (+5)
8.Detroit (-4)
9.Charlotte, N.C. (-1)
10.Nashville, Tenn. (-3)
11.Tampa-St. Petersburg, Fla. (+11)
12.Orlando-Daytona Beach-Melbourne, Fla. (+11)
13.Norfolk-Portsmouth-Newport News, Va. (+1)
14.Memphis, Tenn. (-3)
15.Mobile-Pensacola, Fla. (+11)
16.West Palm Beach-Ft. Pierce, Fla. (+15)
17.Raleigh-Durham, N.C. (-8)
18.Grand Rapids-Kalamazoo-Battle Creek, Mich. (-3)
19.Boston (-9)
20.Phoenix, Ariz.
21.Philadelphia (+9)
22.Greenville-Spartanburg, S.C., Asheville, N.C. (-6)
23.Richmond-Petersburg, Va. (-2)
24.Kansas City, Mo. (+25)
25.Cleveland-Akron-Canton, Ohio (-7)
26.St. Louis, Mo.
27.New Orleans, La. (+16)
28.Baltimore, Md. (+9)
29.Los Angeles
30.Minneapolis-St. Paul, Minn. (-11)
31.Hartford-New Haven, Conn. (-8)
32.Lafayette, La. (+12)
33.Knoxville, Tenn. (+1)
34.Albany-Schenectady-Troy, N.Y. (-17)
35.Indianapolis, Ind. (-8)
36.Birmingham, Ala. (+11)
37.Austin, Texas (+11)
38.Cincinnati, Ohio (+7)
39.San Antonio, Texas
40.Baton Rouge, La.
41.Charleston, S.C. (-16)
42.Shreveport, La.
43.Columbia, S.C.
44.Columbus, Ohio (-12)
45.Bangor, Maine (-16)
46.Flint-Saginaw-Bay City, Mich. (-18)
47.Greensboro-High Pt.-Winston-Salem, N.C. (-9)
48.Myrtle Beach-Florence, S.C. (-2)
49.Tulsa, Okla. (-13)
50.Little Rock-Pine Bluff, Ark.
"While June, July and August are the prime months for mosquito activity, mosquito season can begin as early as March in the southern part of the United States where temperatures are warmer," Orkin noted.
They offered the following advice to avoid mosquito bites and any possible diseases:
Eliminate Standing Water in Yard
Remove standing water from gutters, buckets, toys and other containers, as mosquitoes can breed in just a few inches of standing water.
Change water weekly in bird baths, fountains, potted plants and any containers that hold standing water.
Keep pool water treated and circulating.
Prevent Mosquito Bites
Wear long-sleeved shirts and long pants.
Use EPA-registered mosquito repellents containing one of the following active ingredients: DEET, picaridin, oil of lemon eucalyptus, para-menthane-diol or IR3535.
Eliminate Entry Points
Use air-conditioning when possible.
Close gaps around windows and in walls.
Repair and use window and door screens to help prevent entry.
Comments
comments