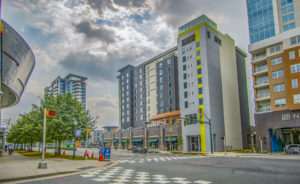 Finding a place to live that incorporates green space and ample amenities is top of mind for everyone, in pandemic and non-pandemic times, with last year only serving as a reminder of how important home really is. We set out to identify where renters have the best chances to enjoy a premier renting experience, amenity-wise, in the hunt for the ideal pad.
Looking at more than 82,000 large-scale apartment buildings* across the country, Charlotte stands out as the 15th-best location that offers the ideal renting conditions for community amenities, while Raleigh ranks 16th.
Here are some of the most important highlights on NC's rental scene:
45% of Charlotte and Raleigh's apartment properties are equipped with over-the-top community facilities.
The bounty of apartment amenities is likely due to the rental building boom in these two NC cities. There's been a 30% increase in rental units built over the past decade in Charlotte and a 28% increase in Raleigh.
Almost all large-scale rental buildings in these cities boast a common outdoor space and parking spots, along with resort-style pools (88%), and 24hr fitness centers (81%).
Apartment buildings are particularly family-friendly here, with about 44% of rental communities offering playgrounds. 82% offer clubhouses for a plus of comfort and 58% have business centers.
In total, five NC cities made our list of top 100 cities by apartment community amenities – Durham ranked 26th, Greensboro 34th and Winston-Salem 46th.
Top 100 Cities by Community Amenities
You can find the full report here: https://www.storagecafe.com/blog/best-cities-for-lifestyle-amenities/
Comments
comments