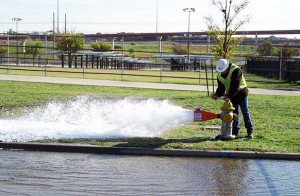 With clean, safe water more crucial than ever to public health, some U.S. cities are making waves when it comes to pumping out high-quality H2O to their residents.
They include cities like Charlotte, on account of high consumer satisfaction, great infrastructure, and few violations of quality standards, for example.
Charlotte ranked No. 8 on LawnStarter's Best Cities for Water Quality report, which compares the 200 biggest U.S. cities across seven key factors, including those listed below.
How does Charlotte stack up?
Charlotte's Rank for Some of the Key Metrics (1 = Best)
Satisfaction with Drinking Water Quality and Accessibility – 39th
Increase/Decrease in Number of Water Quality Violations – 12th
Share of Homes Lacking Plumbing or Kitchen Facilities – 7th
Share of Homes with Sewage Disposal Breakdowns in Last 3 Months – 15th
Best Cities for Water Quality
| | | | | | |
| --- | --- | --- | --- | --- | --- |
| OVERALL RANK | City | Overall Score | Consumer Satisfaction Rank | Compliance Rank | Infrastructure Vulnerability Rank |
| 1 | Columbus, OH | 81.03 | 22 | 102 | 9 |
| 2 | St. Petersburg, FL | 80.53 | 27 | 20 | 3 |
| 3 | Aurora, CO | 79.97 | 16 | 106 | 40 |
| 4 | Frisco, TX | 79.39 | 1 | 74 | 140 |
| 5 | Overland Park, KS | 78.51 | 7 | 100 | 72 |
| 6 | Naperville, IL | 78.22 | 3 | 28 | 102 |
| 7 | Minneapolis, MN | 78.2 | 44 | 43 | 17 |
| 8 | Charlotte, NC | 77.76 | 33 | 181 | 7 |
| 9 | Peoria, AZ | 77.26 | 45 | 7 | 31 |
| 10 | Raleigh, NC | 77.1 | 30 | 191 | 5 |
| 11 | Richmond, VA | 76.61 | 25 | 104 | 46 |
| 12 | Vancouver, WA | 76.54 | 41 | 140 | 34 |
| 13 | Tacoma, WA | 76.39 | 95 | 3 | 18 |
| 14 | Fremont, CA | 76.2 | 10 | 143 | 86 |
| 15 | Portland, OR | 75.56 | 43 | 137 | 38 |
| 16 | Arlington, TX | 75.45 | 13 | 88 | 91 |
| 17 | Nashville, TN | 75.44 | 85 | 101 | 4 |
| 18 | Louisville, KY | 75.38 | 52 | 118 | 33 |
| 19 | San Antonio, TX | 74.92 | 107 | 2 | 20 |
| 20 | Winston-Salem, NC | 74.82 | 2 | 149 | 181 |
| 21 | Atlanta, GA | 74.63 | 105 | 128 | 1 |
| 22 | Scottsdale, AZ | 74.47 | 55 | 182 | 23 |
| 23 | Bellevue, WA | 74.16 | 6 | 96 | 138 |
| 24 | Clarksville, TN | 74.03 | 11 | 28 | 111 |
| 25 | Arlington, VA | 73.85 | 18 | 12 | 104 |
| 26 | Rancho Cucamonga, CA | 73.83 | 4 | 19 | 184 |
| 27 | Greensboro, NC | 73.73 | 53 | 156 | 41 |
| 28 | St. Paul, MN | 73.49 | 21 | 18 | 90 |
| 29 | Sioux Falls, SD | 73.49 | 19 | 134 | 98 |
| 30 | Tampa, FL | 73.33 | 83 | 180 | 8 |
| 31 | Hayward, CA | 73.28 | 23 | 20 | 86 |
| 32 | McKinney, TX | 73.23 | 17 | 28 | 113 |
| 33 | Birmingham, AL | 73.19 | 59 | 164 | 42 |
| 34 | Milwaukee, WI | 73.14 | 73 | 13 | 37 |
| 35 | Spokane, WA | 73.09 | 14 | 136 | 124 |
| 36 | Pasadena, CA | 73.01 | 9 | 54 | 147 |
| 37 | Rochester, NY | 72.95 | 96 | 9 | 19 |
| 38 | Grand Rapids, MI | 72.78 | 28 | 4 | 107 |
| 39 | Henderson, NV | 72.68 | 99 | 43 | 11 |
| 40 | Huntsville, AL | 72.41 | 20 | 28 | 115 |
| 41 | St. Louis, MO | 72.1 | 65 | 28 | 59 |
| 42 | Cincinnati, OH | 72 | 75 | 20 | 39 |
| 43 | Buffalo, NY | 71.94 | 24 | 171 | 92 |
| 44 | Little Rock, AR | 71.33 | 12 | 28 | 176 |
| 45 | Oakland, CA | 71.28 | 38 | 95 | 86 |
| 46 | Springfield, MA | 71.13 | 8 | 127 | 186 |
| 47 | Salem, OR | 71.09 | 15 | 72 | 175 |
| 48 | Austin, TX | 71.08 | 81 | 179 | 36 |
| 49 | Tempe, AZ | 70.79 | 104 | 170 | 23 |
| 50 | Mesa, AZ | 70.54 | 117 | 6 | 23 |
| 51 | Denver, CO | 70.49 | 48 | 186 | 63 |
| 52 | Virginia Beach, VA | 70.11 | 60 | 176 | 64 |
| 53 | Kansas City, MO | 69.8 | 84 | 115 | 62 |
| 54 | Boston, MA | 69.55 | 26 | 76 | 122 |
| 55 | Miami, FL | 69.53 | 97 | 142 | 47 |
| 56 | Baltimore, MD | 69.28 | 134 | 1 | 35 |
| 57 | Dayton, OH | 69.24 | 42 | 74 | 103 |
| 58 | Plano, TX | 69.08 | 74 | 60 | 76 |
| 59 | Oklahoma City, OK | 69.05 | 39 | 83 | 108 |
| 60 | Cleveland, OH | 68.88 | 93 | 146 | 60 |
| 61 | Fort Lauderdale, FL | 68.67 | 102 | 15 | 53 |
| 62 | Orlando, FL | 68.58 | 116 | 190 | 10 |
| 63 | Sacramento, CA | 68.56 | 88 | 43 | 68 |
| 64 | Long Beach, CA | 68.46 | 32 | 79 | 147 |
| 65 | Dallas, TX | 68.38 | 78 | 43 | 78 |
| 66 | Las Vegas, NV | 68.37 | 130 | 165 | 11 |
| 67 | Seattle, WA | 68.33 | 36 | 116 | 138 |
| 68 | Port St. Lucie, FL | 68.14 | 124 | 150 | 30 |
| 69 | Santa Clarita, CA | 68.11 | 35 | 50 | 147 |
| 70 | Philadelphia, PA | 67.74 | 113 | 129 | 45 |
| 71 | Fontana, CA | 67.64 | 112 | 20 | 50 |
| 72 | Springfield, MO | 67.57 | 63 | 11 | 100 |
| 73 | Omaha, NE | 67.45 | 46 | 8 | 161 |
| 74 | Fort Collins, CO | 67.45 | 34 | 43 | 170 |
| 75 | Aurora, IL | 67.41 | 51 | 111 | 116 |
| 76 | San Jose, CA | 67.41 | 91 | 66 | 80 |
| 77 | Lincoln, NE | 67.32 | 50 | 131 | 121 |
| 78 | Lexington, KY | 67.15 | 64 | 93 | 99 |
| 79 | Memphis, TN | 67.11 | 77 | 54 | 89 |
| 80 | Eugene, OR | 66.95 | 37 | 69 | 172 |
| 81 | Wichita, KS | 66.73 | 58 | 154 | 112 |
| 82 | Augusta, GA | 66.58 | 57 | 105 | 136 |
| 83 | Irvine, CA | 66.47 | 61 | 65 | 126 |
| 84 | Madison, WI | 66.2 | 47 | 184 | 123 |
| 85 | Alexandria, VA | 66.06 | 54 | 50 | 159 |
| 86 | Anaheim, CA | 65.81 | 89 | 28 | 96 |
| 87 | Boise City, ID | 65.72 | 31 | 189 | 162 |
| 88 | Colorado Springs, CO | 65.67 | 66 | 178 | 101 |
| 89 | Providence, RI | 65.64 | 137 | 124 | 21 |
| 90 | Phoenix, AZ | 65.56 | 129 | 187 | 23 |
| 91 | Chandler, AZ | 65.48 | 108 | 197 | 23 |
| 92 | Kansas City, KS | 65.37 | 68 | 148 | 132 |
| 93 | Tulsa, OK | 65.34 | 67 | 157 | 135 |
| 94 | Indianapolis, IN | 65.31 | 114 | 195 | 32 |
| 95 | Sunnyvale, CA | 65.11 | 110 | 67 | 80 |
| 96 | Des Moines, IA | 64.92 | 76 | 120 | 119 |
| 97 | San Diego, CA | 64.66 | 119 | 139 | 65 |
| 98 | Durham, NC | 64.44 | 40 | 194 | 142 |
| 99 | Riverside, CA | 64.43 | 133 | 28 | 57 |
| 100 | Columbus, GA | 64.39 | 56 | 28 | 180 |
| 101 | Reno, NV | 64.1 | 29 | 160 | 198 |
| 102 | Baton Rouge, LA | 63.61 | 72 | 54 | 173 |
| 103 | Glendale, CA | 63.56 | 86 | 28 | 147 |
| 104 | Salt Lake City, UT | 63.5 | 70 | 145 | 174 |
| 105 | Fort Wayne, IN | 63.39 | 98 | 132 | 110 |
| 106 | Oxnard, CA | 63.36 | 49 | 92 | 194 |
| 107 | Houston, TX | 63.18 | 127 | 17 | 75 |
| 108 | Lubbock, TX | 63.09 | 87 | 103 | 160 |
| 109 | San Francisco, CA | 62.95 | 92 | 98 | 145 |
| 110 | Detroit, MI | 62.64 | 115 | 61 | 97 |
| 111 | Norfolk, VA | 62.6 | 132 | 97 | 71 |
| 112 | Tallahassee, FL | 62.58 | 82 | 174 | 164 |
| 113 | Santa Ana, CA | 62.35 | 103 | 93 | 126 |
| 114 | Santa Rosa, CA | 61.87 | 79 | 20 | 187 |
| 115 | Pittsburgh, PA | 61.73 | 131 | 159 | 82 |
| 116 | New York, NY | 61.73 | 100 | 120 | 158 |
| 117 | Chicago, IL | 61.42 | 109 | 162 | 125 |
| 118 | Syracuse, NY | 61.22 | 118 | 135 | 109 |
| 119 | Jacksonville, FL | 61.07 | 140 | 196 | 16 |
| 120 | Fort Worth, TX | 61.03 | 126 | 108 | 95 |
| 121 | Worcester, MA | 60.59 | 111 | 76 | 157 |
| 122 | Knoxville, TN | 60.25 | 121 | 16 | 114 |
| 123 | Montgomery, AL | 60.07 | 120 | 138 | 118 |
| 124 | McAllen, TX | 60.07 | 90 | 89 | 193 |
| 125 | New Orleans, LA | 59.88 | 147 | 106 | 43 |
| 126 | Washington, DC | 59.83 | 106 | 14 | 177 |
| 127 | Mobile, AL | 59.77 | 94 | 155 | 190 |
| 128 | El Paso, TX | 59.64 | 122 | 175 | 105 |
| 129 | Newport News, VA | 59.02 | 143 | 117 | 70 |
| 130 | Jackson, MS | 58.88 | 80 | 192 | 183 |
| 131 | Honolulu, HI | 58.86 | 69 | 119 | 199 |
| 132 | Chattanooga, TN | 57.96 | 123 | 43 | 171 |
| 133 | Savannah, GA | 57.36 | 101 | 177 | 192 |
| 134 | Amarillo, TX | 56.71 | 135 | 152 | 133 |
| 135 | Modesto, CA | 56.25 | 128 | 122 | 185 |
| 136 | Los Angeles, CA | 55.62 | 138 | 123 | 147 |
| 137 | Macon, GA | 55.5 | 139 | 61 | 143 |
| 138 | Tucson, AZ | 55.42 | 71 | 200 | 22 |
| 139 | Cary, NC | 55.21 | 157 | 5 | 2 |
| 140 | Huntington Beach, CA | 54.94 | 125 | 43 | 196 |
| 141 | Rockford, IL | 54.91 | 142 | 158 | 117 |
| 142 | Salinas, CA | 54.85 | 135 | 69 | 178 |
| 143 | Palmdale, CA | 54.67 | 141 | 54 | 147 |
| 144 | Akron, OH | 53.46 | 154 | 133 | 49 |
| 145 | Murfreesboro, TN | 52.69 | 157 | 112 | 6 |
| 146 | North Las Vegas, NV | 52.42 | 157 | 28 | 11 |
| 147 | Fayetteville, NC | 52.12 | 148 | 172 | 134 |
| 148 | Newark, NJ | 51.97 | 146 | 173 | 168 |
| 149 | Paradise, NV | 51.95 | 157 | 165 | 11 |
| 149 | Spring Valley, NV | 51.95 | 157 | 165 | 11 |
| 151 | Jersey City, NJ | 51.32 | 145 | 126 | 189 |
| 152 | Brownsville, TX | 50.87 | 149 | 54 | 163 |
| 153 | Bakersfield, CA | 50.82 | 144 | 54 | 191 |
| 154 | Anchorage, AK | 50.66 | 5 | 198 | 200 |
| 155 | Corpus Christi, TX | 50.47 | 151 | 130 | 137 |
| 156 | Toledo, OH | 49.91 | 152 | 67 | 130 |
| 157 | Glendale, AZ | 49.52 | 157 | 185 | 23 |
| 158 | Stockton, CA | 49.45 | 150 | 81 | 179 |
| 159 | Thornton, CO | 49.12 | 157 | 125 | 44 |
| 160 | San Bernardino, CA | 48.75 | 157 | 20 | 50 |
| 161 | Ontario, CA | 48.75 | 157 | 28 | 50 |
| 162 | Corona, CA | 48.54 | 157 | 82 | 57 |
| 163 | Hollywood, FL | 48.52 | 157 | 110 | 53 |
| 164 | Miramar, FL | 48.51 | 157 | 114 | 53 |
| 165 | Hialeah, FL | 48.43 | 157 | 161 | 47 |
| 166 | Pembroke Pines, FL | 48.34 | 157 | 147 | 53 |
| 167 | Gilbert, AZ | 48.15 | 157 | 193 | 23 |
| 168 | Albuquerque, NM | 47.77 | 62 | 199 | 141 |
| 169 | Olathe, KS | 46.98 | 157 | 10 | 72 |
| 170 | Escondido, CA | 46.88 | 157 | 28 | 65 |
| 170 | Chula Vista, CA | 46.88 | 157 | 28 | 65 |
| 172 | Elk Grove, CA | 46.87 | 157 | 61 | 68 |
| 173 | Lakewood, CO | 46.46 | 157 | 20 | 74 |
| 174 | Chesapeake, VA | 46.18 | 157 | 183 | 61 |
| 175 | Mesquite, TX | 46.16 | 157 | 86 | 77 |
| 176 | Garland, TX | 46 | 157 | 86 | 79 |
| 177 | Pasadena, TX | 45.67 | 157 | 73 | 83 |
| 178 | Irving, TX | 45.55 | 157 | 99 | 84 |
| 179 | Killeen, TX | 45.21 | 157 | 108 | 85 |
| 180 | Shreveport, LA | 44.08 | 156 | 113 | 167 |
| 181 | Fresno, CA | 43.92 | 153 | 141 | 195 |
| 182 | Sunrise Manor, NV | 43.78 | 157 | 165 | 93 |
| 182 | Enterprise, NV | 43.78 | 157 | 165 | 93 |
| 184 | Bridgeport, CT | 43.4 | 155 | 188 | 131 |
| 185 | Joliet, IL | 42.58 | 157 | 163 | 106 |
| 186 | Yonkers, NY | 42.45 | 157 | 90 | 120 |
| 187 | Orange, CA | 42.35 | 157 | 85 | 126 |
| 188 | Fullerton, CA | 42.35 | 157 | 90 | 126 |
| 189 | Paterson, NJ | 41.74 | 157 | 78 | 144 |
| 190 | Pomona, CA | 41.69 | 157 | 28 | 147 |
| 191 | Lancaster, CA | 41.68 | 157 | 71 | 147 |
| 192 | Midland, TX | 41.55 | 157 | 144 | 146 |
| 193 | Torrance, CA | 41.39 | 157 | 153 | 147 |
| 194 | Laredo, TX | 41.36 | 157 | 151 | 156 |
| 195 | Grand Prairie, TX | 41.1 | 157 | 61 | 165 |
| 196 | Metairie, LA | 41.08 | 157 | 80 | 166 |
| 197 | Cape Coral, FL | 40.86 | 157 | 84 | 169 |
| 198 | Oceanside, CA | 39.79 | 157 | 50 | 182 |
| 199 | Moreno Valley, CA | 39.54 | 157 | 50 | 188 |
| 200 | Garden Grove, CA | 37.9 | 157 | 20 | 196 |
Comments
comments