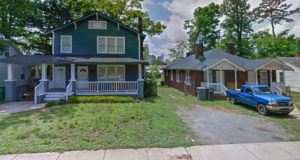 While most people believe Charlotte's housing market has hit its peak, one analyst is now predicting a 27% decline is home prices, ranking Charlotte among the top 10 worst housing bubbles in the nation.
Reventure Consulting released their new housing bubble report earlier this month, which analyses home price appreciation, migration trends, and price to rent ratios to determine which markets might be in for some major price corrections.
According to the report, these are the top 10 worst housing bubbles in America:
10. Atlanta, GA – Atlanta's Real Estate Market has as much as 25% price downside given how expensive home values have become for local workers.
9. Cape Coral, FL – One of the most volatile Housing Markets in America. Cape Coral/Fort Myers is currently in a Housing Bubble but could have another 2007-style Crash given how high prices are relative to rents and long-term trends.
8. Phoenix, AZ – Home Prices in Phoenix today are 50% higher than the previous peak in 2007. Meanwhile, inventory is surging and real estate investors are starting to sell out of the market.
7. Tampa, FL – the home-flipping capital of the US. Tampa has a ton of investor demand that pushes home prices up during Housing Booms and down during Housing Crashes.
6. Charlotte, NC – Charlotte has quickly become one of the America's biggest Housing Bubbles. A sky-high Price to Rent Ratio indicates that both homebuyers and investors will stop buying.
5. Raleigh, NC – Home Values in Raleigh are nearly 35% high than the long-term trend. Which is problematic for a city where migration is below the previous highs experienced in the mid-2000s.
4. Seattle, WA – Seattle lost the most people it ever has in 2021 according to US Census Bureau data. Now Housing Inventory is climbing rapidly and prices are projected to decline 28%.
3. Salt Lake City, UT – a combination of record-high prices, stagnating wages, and too much home building make Salt Lake City one of America's biggest Housing Bubbles.
2. Boise, ID – this will be one of the first cities to Crash. Inventory in Boise is up 118% YoY according to Realtor.com and Zillow estimates show values already declining.
1. Austin, TX – America's Biggest Housing Bubble is without a doubt Austin, TX. Home Values are predicted to Crash by 34% according to the Reventure Consulting Home Price Model.
Data used in the analysis was taken from Zillow (https://www.zillow.com/research/data/) and BLS (https://www.bls.gov/sae/data/).
You can watch the full video here:
Comments
comments