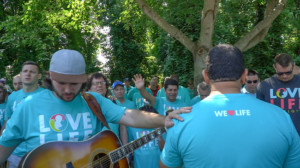 A religious group in Charlotte has come under fire once again by the Huffington Post and the Charlotte Observer for a "men for life" prayer rally that was held in front of an abortion clinic this past Saturday between 9am-11am.
The articles took issue with the City of Charlotte giving a parade permit to Love Life Charlotte, and that they were allowed to use microphones and speakers to pray, preach, and sing in front of the clinic.
The Huffington Post started their article by saying that "…anti-abortion rights groups flock to A Preferred Women's Health Center to preach, pray, and shame women who are trying to access their federally protected right to an abortion." They also quoted a pro-choice activist in saying, "In Charlotte, black women are being persecuted by white men in the name of their God and it is wrong." According to Love Life Charlotte's 'Code of Conduct', however, all participants are specifically told "not to engage with anyone at the abortion clinic".
Both articles failed to mention the level of opposition the prayer walk faced in front of the abortion clinic by pro-choice groups.
Local ministry United Prayer posted a video of Saturday's prayer walk showing a large gathering pro-choice advocates protesting Love Life Charlotte with picket signs and chanting:
pro-abortion protester chants were drowned out by worship at Saturday's prayer rally at the abortion clinic #lovelifecharlotte pic.twitter.com/UPc4KGJJx7

— United Prayer (@UnitedPrayer_US) June 13, 2017
Both The Huffington Post and The Charlotte Observer spoke extensively with Calla Hales, the administrator at the Preferred Women's Health Center of Charlotte on Latrobe Drive, as well as a volunteers with Pro Choice Charlotte, but neither crossed the street to speak with anyone from Love Life Charlotte, the organization that led the prayer march.
Hales told the Observer that "Saturday's event was larger and more raucous than usual, with up to 600 protestors."
I spoke with Justin Reeder, the head of Love Life Charlotte, about the articles and about the prayer march. He said that the Huffington Post did e-mail him some questions well in advance of publishing their article, and used some of his quotes in their article, but the Charlotte Observer only messaged him on Facebook at about 3pm on Saturday – by the time he saw the message a couple hours later, the article was already published saying, "a representative from Love Life Charlotte couldn't be reached for comment".
Huffington Post quoted Reeder in saying, "We are calling for fathers to be fathers and take responsibility. If men were taking responsibility and standing with mothers then the majority of women would not feel like abortion is their only option."
In a video advertising the event Reeder noted that men need to "man up and stand up" against abortion.
When asked what other ways men could 'stand up', Reeder told me that "we are encouraging men to be loving fathers in our city, which includes helping the needy and fatherless children among us. We challenge them to serve in our mentor program for families that chose life and also encourage them to engage in our Orphan Care Ministry by fostering or adopting kids in Charlotte."
Last year I visited the Preferred Women's Health Center during one of Love Life Charlotte's marches and interviewed several of the organization's leaders:
One of Love Life Charlotte's main partners, Cities 4 Life is continually adding new resources and organizations to what they're calling the 'Life Network' – an extensive network of resources for women who are struggling through unwanted pregnancies.
"It's one thing to be against abortion, but it's another thing to bring life, to actually bring choices to these mothers that feel like they really have no other choice," commented David Benham, one of the original founders of Cities 4 Life.
What do you think about Love Life Charlotte's prayer walks?
Do you think the city should continue to give them permits to pray and protest outside of the clinic? 
Comments
comments