Charlotte residents will have the opportunity to create their own unique messages and clothing of resistance at a special print workshop held in the historic NoDa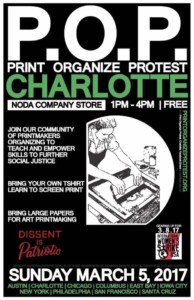 arts district.
Print|Organize|Protest, a network of independent graphic artists dedicated to social change, is holding community events at print shops across the country on March 5. Screen print artists will teach involved local community members how to design and press their own protest signs, posters and t-shirts. The Charlotte event takes place at NoDa Company Store on 3221 Yadkin Avenue from 1p.m to 4p.m.
P.O.P. Charlotte is being organized by Evan and Susan Plante of Docklands Design in NoDa, and is free and open to the public. Bring your own clothing, fabric, paper, or cardboard and printers will show you how to make a personal symbol for change. Attendants are advised to bring blank, one-colored t-shirts, or card stock/ poster board to print on.
Docklands is selling customary resistance t-shirts to raise funds for ink, screens and other supplies. If you want to give your support, than you can order a shirt at: docklands.storenvy.com
Similar P.O.P events will be hosted in New York City, Chicago, San Francisco and Santa Cruz in preparation for International Women's Day on March 8. Women's day is a global resistance calling for gender equality and the important role of women in society.
Besides coordinating printing workshops, Print|Organize|Protest also encourages the public to be more civic-minded. They suggest people participate in local organizing events, city council meetings, town halls, protests and other demonstrations.
For more information on other P.O.P events and activities, go to: https://www.printorganizeprotest.org/
Comments
comments