The Charlotte City Council just approved plans to build a new $10 million 'iconic' pedestrian bridge over Independence Blvd. (I-74) as part of the Little Sugar Creek Greenway.
According to the city's plan, "The proposed pedestrian bridge structure requires a shallow superstructure such that minimum vertical clearance over the existing roadways (US74 and I-277) and future light rail can be maintained while adhering to Americans with Disabilities Act (ADA) requirements (e.g., "the running slope of a pedestrian access route shall be 5 percent maximum"). A visually appealing bridge with a structurally-efficient, state of the art design is desired. High-performance materials, such as high-density polyethylene or low maintenance metal, will be considered to reduce maintenance requirements of the proposed bridge and extend the design life past the 75 years that is typical for current design specifications. The signature bridge can be enhanced with low-energy programmable LED lighting that can be adjusted for holidays, sporting events and various other occasions."
The city estimates that the entire bridge would cost $12.5 million to construct. If the federal (TIGER) grant program were to be approved, it could cover 80 percent of construction costs.
The bridge would start where 7th Street and McDowell Street intersect and connect two major sections of Charlotte's greenway. It would allow pedestrians or cyclists to ride or walk from NoDa to Freedom Park without touching a city street.
The idea is to make this a "signature" destination for the city. The designs all include a 'scenic overlook' in the middle of the bridge to display one of the most iconic viewing angles of Uptown Charlotte (the shots that are currently taken on top of the Central Ave. bridge).
The city is considering 3 major design concepts for the final bridge;
Design 1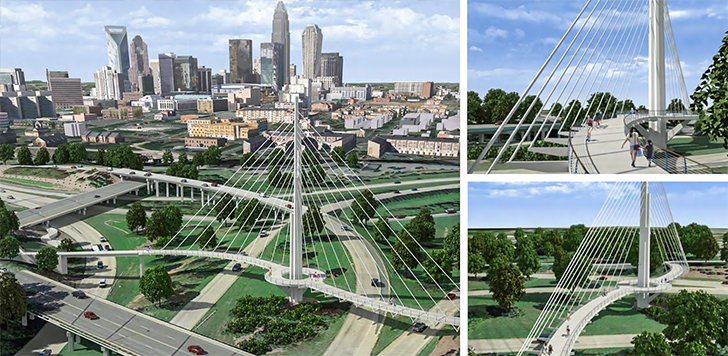 Design 2
Design 3
The final applications for the TIGER grant are due by the end of April.
If Charlotte did get approval for the new pedestrian bridge, the money would have to be used by 2024.
The bridge would be similar in size and length to Omaha's Bob Kerrey pedestrian bridge that I featured in the beginning of my 'Tour of Omaha' video:
What do you think about the new bridge? 
Which design do you like best (1, 2, or 3)? 
Comments
comments