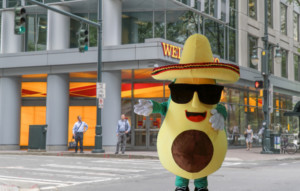 The world's first 'avocado sriracha bar' is about to open in the heart of Uptown Charlotte. Sr. Avos will feature a completely raw vegan gluten-free organic menu with food and drink items that all have either sriracha or avocado in them – most include both.
Menu items will include:
Sriracha Avocado Toast
Raw Bunless Black Bean and Avocado Burger w/ Sriracha Infusion
Sriracha Gazpacho served in Freeze-Dried Avocado Bowl
Lettuce-Free Avocado Salad w/ Diet Sriracha Dressing
Avocado Injected Rice Noodle Toss
Avocado Sriracha Bomb
1 Whole Raw Avocado
All the meat they serve will also be 100% grass-fed free-range without any added hormones or harsh words.
Sr. Avos will offer free delivery using all of Charlotte's popular delivery services, including Shipt, Door Dash, and Amazon Prime Now. Simply tell Siri or Alexa "I want an Avocado Sriracha bomb" and your gourmet treat will be delivered to your front door in less than 15 minutes.
The new 10,000 sq ft restaurant will include a dog-friendly 'living' back patio, 3 rooftop bars overlooking the city, a safe space, and a screened in front patio featuring a full hot yoga studio.
Grand opening is set for April 1st, 2018.
Please note that this article was written for April Fools Day, Sr. Avos sadly will not be built in Charlotte anytime soon.
Comments
comments