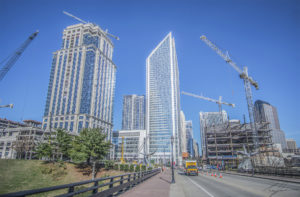 As both rents and home prices rise rapidly, housing affordability continues to be a concern for families across the U.S. The affordability crisis that plagues many of the nation's largest cities is the result of a long-term imbalance in supply and demand. Recently released data from the US Census sheds new light on which parts of the country are building enough to keep pace with demand, and which are falling behind.
In their latest report, Apartment List found that the U.S. added over 9 million net new housing units from 2010 to 2020, expanding the nation's housing stock by 6.9%. However, growth varies dramatically by region. While many major markets are severely under building, Charlotte, NC has managed to add enough housing to keep pace with job growth. However, the bulk of that new construction has been concentrated in the metro's suburbs rather than in the urban core.
Some key findings:
From 2010-2020 the Charlotte metro added 160,000 new housing units, increasing the housing stock by 17%. Charlotte's growth in new housing ranks #11 fastest among the nation's 100 largest metros.

Over the same period, Charlotte added 285,000 new jobs, an increase of 30%. A healthy housing market should add a new housing unit for every 1-2 new jobs as the local economy grows. In Charlotte, 1.8 jobs have been added for every new housing unit, indicating that the area is building sufficient new housing to keep pace with demand.

Within the Charlotte metro, Lancaster County saw the fastest growth in new housing units, with an increase of 25%. Chester County built the least new housing, with an increase of 1%.
Comments
comments