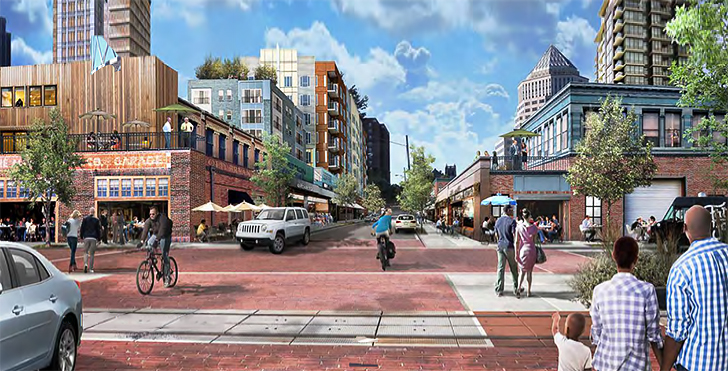 The Mecklenburg County Commissioners were recently presented with the latest updates on the city's new North Tryon Vision Plan, which would completely redevelop most of the area between Tryon and College, from Sixth to Eighth Streets.
The hope is that the redevelopment would cause a sort of 'catalyst effect' around the area and would attract new developers to continue the growth.
One of the most prominent features for pedestrians and bikers is being called the 'Play Street Concept' (pictured above), according to the new plan, "The Play Street concept builds on the success of the anchor institutions which attract thousands of families to North Tryon each year. The immersive and interactive experience in both the design of the street and adjacent development will characterize the experience of walking along 7th Street."
The plan also calls for at least 5 major renovations of Charlotte institutions around the N. Tryon Uptown corridor, including;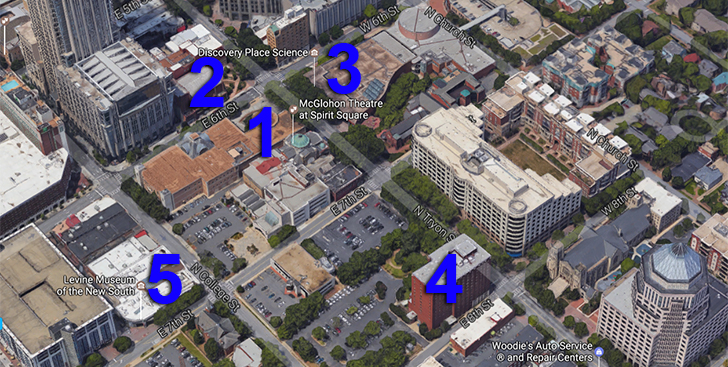 #1 New Uptown Central Library and Tower
The library will completely redeveloped with a possible mid-rise to high-rise built on top of it. The new facade will be in line with the aesthetics of the new Spirit Square.
#2 Carolina Theater Redevelopment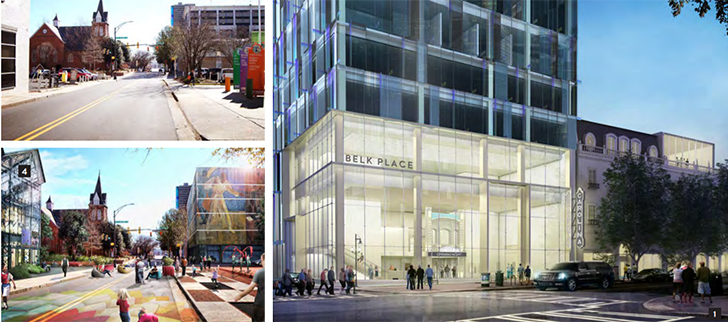 Fully renovated Carolina theater w/ $39 million in upgrades, and a mid-rise boutique hotel planned for space above theater. The new Spirit Square plaza will include pedestrian friendly features and new active components.
#3 Discovery Place Redevelopment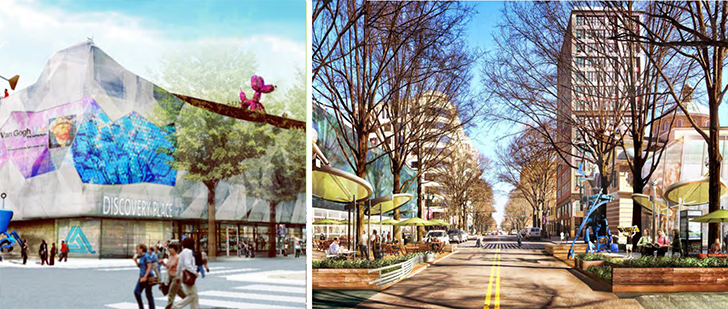 The main changes that are proposed to the Discovery Place will be a totally transformed outer facade (seen above), as well as new artistic and scientific outdoor landscaping and features for pedestrians and visitors to play with and on.
#4 Hall House Redevelopment
The proposed redevelopment of the Hall House block includes a totally new mixed-use development in partnership with Bank of America, to include both low-rise and mid-rise office, residential, retail and cultural facilities.
#5 The Levine Museum of the New South
The proposed Levine Museum of the New South at the corner of College and 7th Streets would include an expansion of up to 10,000 square feet, and a redesigned interior and exterior design to target more youth and young adults.
The new development in the plan includes;
At least 125 new affordable housing units, and at least 120 new senior housing units.
 At least 380 new market-rate housing units.
Up to 60,000 more square feet of retail, including new shops, restaurants, and attractions.
 Up to 575,000 more square feet of office space (between the newly proposed mid-rises and high-rises).
You can read the entire North Tryon Vision Plan in PDF form here.
What do you think about the new plan? 
What would you like to see added or removed? 
Please let us know your thoughts in the comments below! 
Comments
comments