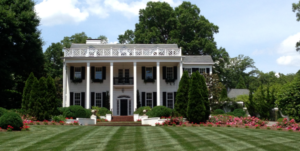 Popular lifestyle website Thrillist recently put out a new report detailing the "Top 10 Most Beautiful Neighborhoods in The South" and Charlotte's historic Eastover made the list.
The ranking analyzed historical significance, curb appeal, overall layout, and culture to compile its list.
Charlotte making the list is quite impressive considering that only 1 neighborhood in Texas and 2 in Florida were included.
Thrillist comments, "Eastover, a hub of gorgeous homes with endless curb appeal, was not only a Prohibition-era destination for the city's movers and shakers who developed the affluent neighborhood into one of the region's top spots to live, but a city planning playground for influential urban designer Earle Sumner Draper."
Check out more awesome Charlotte neighborhoods on our "Top 10 Best Neighborhoods in Charlotte" list.
What do you think the best neighborhood in Charlotte is?
Comments
comments