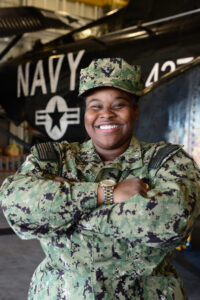 Charlotte native Loraine Small (Petty Officer 2nd Class) is now supporting a wide variety of dangerous missions while serving at Helicopter Mine Countermeasures Squadron (HM) 12.
Small joined the Navy two years ago and has never looked back.
"I joined the Navy because I went with someone else, and the recruiter said that I could join too," said Small. "Once I got in, I realized I needed this. It has been so rewarding to work for a team that takes care of its sailors."
The U.S. Navy's HM 12 squadron is renowned for flying and maintaining top-notch helicopters. These versatile machines excel in a wide range of missions, including search and rescue, air assaults, medical evacuations, supply transport, and submarine hunting.
This year marks a significant milestone as we celebrate 50 years of women taking to the skies in the U.S. Navy. The journey began in 1973 when the first group of eight trailblazing women enrolled in flight school in Pensacola. A year later, six of these pioneers, fondly referred to as "The First Six," earned their prestigious "Wings of Gold." Over the past half-century, the Navy has continually expanded opportunities for women to lead and serve across the globe. Today, female aviators play a vital role in projecting power from the sea in every type of Navy, Marine Corps, and Coast Guard aircraft. Their invaluable contributions have undoubtedly strengthened both our nation and our Navy.
As a Navy member, Small is an integral part of a world-class organization committed to maintaining maritime supremacy, forging strong partnerships, enhancing competitive warfighting capabilities, and sustaining combat-ready forces in alignment with the National Defense Strategy.
Comments
comments