After the protests and riots in September 2016, many Charlotteans felt disenfranchised, divided and marginalized. Trust in the police department was low. Anger and frustration were high. Fortunately, a few people saw an opportunity to build relationships and trust. Major Mike Campagna with the Charlotte Mecklenburg Police Department (CMPD) developed the Constructive Conversation Team (CCT) with help from fellow officers, community volunteers and the backing of the CMPD. CCT is a group of 15 police officers specially trained to talk with protesters, listen to concerns and answer questions.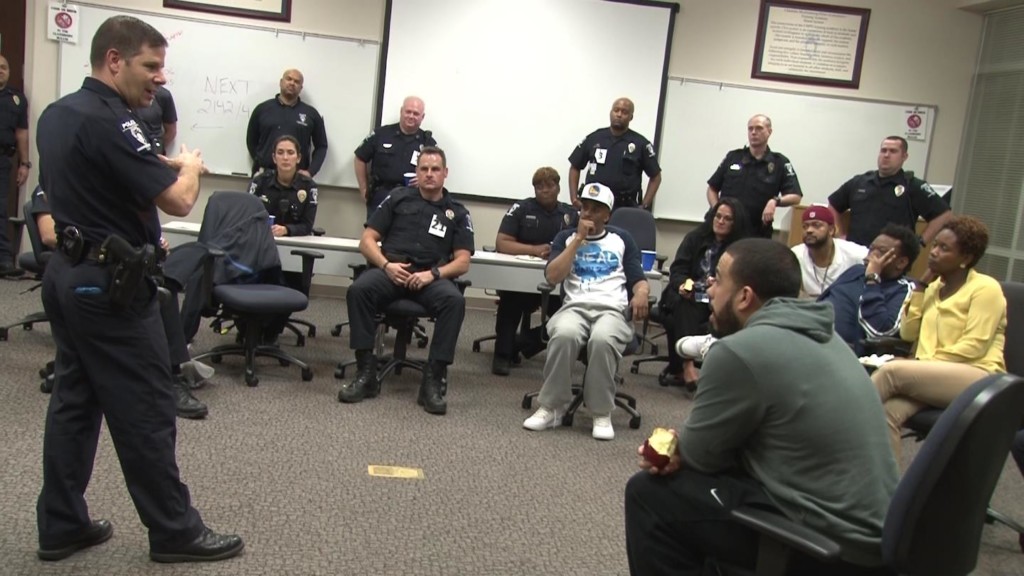 In a presentation called From Chaos to Conversation, Campagna details how his involvement as an officer led to the creation of CCT. At the time of the protests, Campagna was captain of the central division located in uptown Charlotte. This put him in the middle of both peaceful protests and violent riots. On one particular day, protesters blocked the front and back doors of the CMPD headquarters. Police in riot gear formed a barrier so that protesters could not rush the police station. Campagna came out, without riot gear, and listened to one protester, Greg Jackson, who was right in front. They had a short, but productive conversation. "This was the birth of a movement," said Campagna.
Campagna realized that the power of listening can change the dynamics of a situation and ultimately change the outcome. If he can make a connection with a protester, they can begin to dialogue. Campagna acknowledges that they may not always have answers or necessarily agree with one another, but they can begin the conversation.
The police officers in CCT were trained by the Charlotte-based Red Boot Coalition, a non-profit organization focused on uniting people. Officers participated in listening skill exercises. Campagna explains that most people want to be heard. They want to be recognized, and they want their questions answered.
The training included role-playing in realistic scenarios. Jackson, the protester who Campagna connected with at police headquarters, recruited volunteers to act as protesters and create an environment that mimicked real life. Typically, other police officers are used in role-playing. "The dynamic changed things," said Campagna. In the debriefing, officers and volunteers shared that the experience helped to humanize both the officers and the protesters. They saw one another as people.
CCT has been deployed three times since its creation. According to Campagna, he thinks the Conversation Team is making a difference: "Making a connection with people, developing that cooperation is one of the biggest things to come out of it. Creating some openings to find solutions to some of these issues going on."
From Chaos to Conversation includes television news clips, photos, Power Point slides and video clips from the CCT training. Campagna is available to speak to interested groups. Contact him by email at mcampagna@cmpd.org.
Another CMPD program available to individual citizens is called The Transparency Workshop. It is a nine-hour class, spread out over three evenings. It covers use of force, police recruiting, body cameras, traffic stops and other topics. Find that class on the CMPD website.
Photos: Charlotte Mecklenburg Police Department, Vanessa Infanzon
Comments
comments