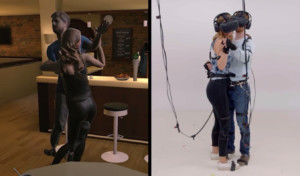 Facebook's new video platform Watch just debuted their first official series: a virtual reality dating show called 'Virtually Dating'.
The show sets people up on blind dates that take place in virtual reality worlds, with crazy backdrops that range from bars, to spaceships, to the moon. At the end of the VR date, each person is asked if they want to see the other again, this time in real reality.
The new show's first episode features Shelby, an office administrator from Atlanta, and John Pope, a soccer coach from Charlotte, NC;
The show highlights Facebook's commitment to advancing VR technology after diving into the field in 2014 with the $2 billion purchase of VR company Oculus.
Facebook also recently launched "Facebook Spaces," a new feature that provides virtual chat rooms for people to hang out in VR. While it's currently still in beta, it is showing promise.
What do you think of VR dating? 
Would you ever try it? 
Comments
comments