The City of Charlotte and Mecklenburg County continue to make significant progress on their 26-mile Cross Charlotte Trail (XCLT) – a trail that will soon stretch all the way from South Carolina, through Pineville and Uptown Charlotte, then up to UNCC until it hits the Cabarrus County line in Harrisburg.
Once completed, XCLT will officially be the longest paved biking trail in North Carolina – you'll be able to ride seamlessly from one end of Mecklenburg County to the other. The longest current trail is the American Tobacco Trail extending 22 miles from Durham to down to Wake County.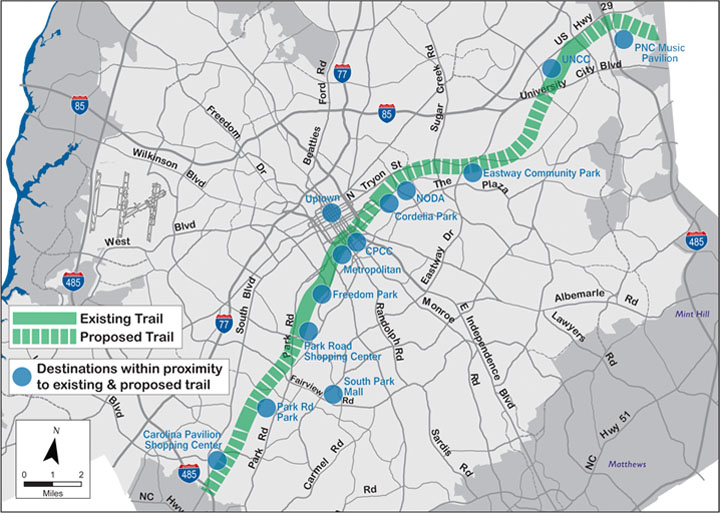 This past week, the City of Charlotte released the following updates;
Little Sugar Creek Greenway: SC state line to James K. Polk site to I-485 (two segments)
The project team is finishing up land acquisition and construction documents, and these segments will go out to bid for a construction contractor in the spring. Public art was recently approved by the Arts & Science Council. Construction is expected to begin in late spring or early summer 2018.
Little Sugar Creek Greenway: I-485 to Huntingtowne Farms Park
The portion between I-485 and Archdale Drive is currently under construction by Mecklenburg County and will take a couple of years to complete. Through Huntingtowne Farms Park, the North Carolina Department of Transportation (which is funding this portion) plans to widen the existing trail through Huntingtowne Farms Park from eight feet to up to 12 feet. It will also include an access trail to Starclaire Park Club and the Starmount neighborhood. Design plans for this segment are 75 percent complete.
Little Sugar Creek Greenway: Huntingtowne Farms Park to Tyvola Road
Construction is about 85 percent complete. Paving, as well as the passage underneath Archdale Drive, will be completed once the weather warms up in the spring.
South Charlotte Connector
Construction is scheduled to begin by the fall of 2018. This connector will extend the XCLT from Little Sugar Creek to the McMullen Creek/McAlpine Creek/Four-Mile Creek Greenway network that  reaches through Ballantyne to Rea Road, extending the trail's reach by 6.5 miles across south Charlotte.
Brandywine Road to Tyvola Road
Design plans are about 90 percent complete. Real estate acquisition, easements and pre-construction services are expected to begin in early 2018 and continue through the spring. The topographical features of this segment make it exceptionally challenging to build, so the City is contracting with Crowder Construction for preconstruction services. This involves analyzing the best methods for construction and generating cost estimates before deciding on a construction delivery method. Construction for this segment is expected to start in 2019.
7th Street to 10th Street
This segment is currently in design, which is about 25 percent complete. The first public engagement took place during Biketoberfest in October 2017. Also in October, Charlotte City Council unanimously authorized the project team to apply for a federal TIGER grant to help fund the construction of an iconic pedestrian/bicycle bridge over US-74/Independence Boulevard at I-277 as part of this project. The XCLT team is awaiting results of 2017 TIGER grant awards. If the grant is not awarded, the team plans to use the Central Avenue Bridge as an interim solution for crossing over the highways until funds become available for a standalone pedestrian bridge.
North Davidson Street to Matheson Avenue
Phase 1 will involve building retaining walls along Matheson Avenue between Davidson Street and Brevard Street that will get users to the top of the Matheson Avenue bridge over the rail yard. Plans for phase 1 are almost complete and construction is expected to start by the summer of 2018. Phase 2 will complete the trail connection from Cordelia Park to the ramp at Davidson and Matheson. This segment design is currently 70 percent complete and real estate acquisition is expected to start in the spring of 2018.
Matheson Avenue to Craighead Avenue and Craghead Avenue to Wellingford Street (2 segments)
These segments are in the early planning phase. The team is assessing topographical and technical challenges to identify feasible and preferred routes for the trail, as well as identifying opportunities to get the trail built through partnerships with developers. A public meeting will be held for both segments in late winter or early spring of 2018.
Wellingford Street to Orr Road (Hidden Valley)
The project team received extensive input from the Hidden Valley community during a three-day charette in September, an online meeting in November and December, and during the Hidden Valley Community Parade and Festival on Dec. 2. The team also met with Charlotte-Mecklenburg Schools to discuss potential alignments near and on school property. Based on community feedback, the team has developed three different potential alignments. More input opportunities are planned for the community as this segment continues to take shape.
You can learn more about the Cross Charlotte Trail here.
Comments
comments