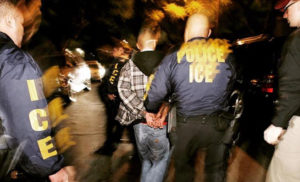 Soon after Charlotte's new sheriff enacted a new rule to lessen their cooperation with Immigration and Customs Enforcement (ICE) in our county, the regional director said they must change their policies to adapt.
"This is the direct conclusion of dangerous policies of not cooperating with ICE," commented Sean Gallagher, the southeast's regional director of ICE. "This forces my officers to go out onto the street to conduct more enforcement."
Last week, ICE officers targeted and arrested over 200 individuals in North Carolina suspected of not having the proper citizenship documentation. Gallagher noted that even more arrests will occur if ICE continues to be restricted from accessing Mecklenburg county jails.
This past December, Mecklenburg County's newly elected Sherriff Garry McFadden reversed the controversial 287(g) program, which notifies ICE agents about the suspected legal status of inmates in our county jails. Last year alone, over 1,200 individuals in Mecklenburg County jails were turned over to ICE through the program.
Protestors of the policy say that it causes many wrongful deportations in an overburdened system, and it denies justice to local victims;
Under 287(g) the Sheriff turns over arrested undocumented persons to ICE. This denies justice to folks harmed by the arrestee. Victims never get their day in Court. And if the arrestee is innocent, the real perpetrator remains free to harm more b/c the justice process was halted.

— AltClt (@alt_clt) February 8, 2019
This past Friday, CMPD released a message, distancing themselves from any ICE Operation in the area;
Yesterday morning the Mecklenburg County Sherriff also released a statement about his decision to end the 287(g) program in our area;
Our statement: pic.twitter.com/jWGWEBvZfb

— Meck Sheriff (@MeckSheriff) February 10, 2019
"People charged with serious crimes as well as people being released and the termination of 287g are two separate issues," the sherriff said in his statement.
He also noted that the main reason for ending the 287g program in Mecklenburg County was to rebuild trust and strengthen public safety in our community.
What are your thoughts about the ending of 287g and the increased raids by ICE in our area?
Comments
comments