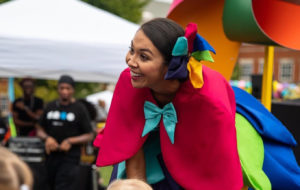 Charlotte Kids Fest, created by University City Partners to help expand the minds of children and parents in the Charlotte region, presents a virtual fourth annual event on November 4-8. The festival will stream live from UNC Charlotte each evening at 6 p.m. Events are free for parents and children to view from Facebook Live. The lineup of Charlotte Kids Fest activities will deliver creative, physical and kid-captivating content designed to help children explore the world around them. Those who stream in will experience educational activities and live performances covering five main areas: CREATE! DISCOVER! GO! LEARN! and PLAY!
"We attract thousands of children and caregivers to the Charlotte Kids Fest at UNC Charlotte each year. Even during the pandemic, we wanted to ensure that we could deliver some fun and enlightenment to ever-learning children." said Darlene Heater, Executive Director of University City Partners. "UNC Charlotte remains the host location for us to stream events to online viewers. Select performers, businesses, UNC Charlotte colleges and youth program providers will join us to lead dynamic activities and performances."
Those who join the Live events should visit CLTKidsFest on Facebook for daily activities and supplies. Children will learn new dance moves, make robots out of toothbrushes, create rockets and much more. The zones will cover fascinating hands-on activities and subjects including:
Reading, math, history, science and technology in the LEARN! Zone
Performing and cultural arts in the DISCOVER! Zone
Arts and crafts in the CREATE! Zone
Exploration of all things on wheels in the GO! Zone
Outdoor activities, exercise and healthy development in the PLAY! Zone
The full schedule and list of program providers are available under each daily Facebook event.
Earlier this year, Charlotte Kids Fest delivered virtual bedtime stories with Pinwheel Polly, the festival mascot, arts & crafts and live performances via Facebook Live. These events served to provide a break for parents and enrichment for children who suddenly shifted to virtual schooling when Charlotte Mecklenburg Schools closed for social distancing.
The 2020 Charlotte Kids Fest is made possible by the support of University City Partners, Culture Blocks—a community partnership funded by Mecklenburg County, Atrium Health University City, Charlotte Area Transit System, Duke Energy, Walmart, UNC Charlotte and many generous Charlotte businesses and organizations. The festival is the only of its kind and scale in the Charlotte-Mecklenburg region, attracting 7,000 attendees in 2019. More information about the festival, participants, performances and viewing options are available online at www.charlottekidsfest.org and Facebook at facebook.com/CLTKidsFest.
Comments
comments