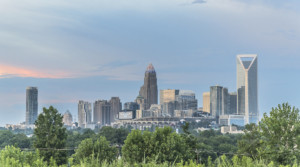 Time Magazine and Yelp recently released a study that analyzed the best cities in America for economic opportunity – where small businesses have the best chance of success.
The study uses Yelp's deep data stores to rank the 50 biggest cities in the country by "economic opportunity", which is defined by Yelp as "the chance businesses have to stay open, and for new businesses to thrive." They looked at dozens of data points for each business in every city, comparing their ratings, page visits, search frequency, number of times the business has been mapped, and how long each business has been open.
According to Time Magazine, "the data indicates that Charlotte, N.C. is the highest growth area, driven by success in restaurants and also the wider food industry — grocery stores, bakeries and the like — as well as home services." The #1 ranked Queen City is followed by Jacksonville, FL at #2, Omaha, NE at #3, Orlando, FL at #4, and Charleston, SC at #5.
Time Magazine also lists out 10 subcategories that made up the overall ranking, including;
Shopping – Charlotte ranked #3
Restaurants – Charlotte ranked #6
Nightlife – Charlotte ranked #19
Food – Charlotte ranked #1
Automotive – Charlotte ranked #3
Event Planning and Services – Charlotte ranked #14
Health and Medical – Charlotte ranked #4
Active Life – Charlotte ranked #6
Home Services – Charlotte ranked #2
Beauty and Spas – Charlotte ranked #5
The results of this new study are even more encouraging for Charlotte, given that many experts are now saying that crowd-sourced data from sites like Yelp are more accurate reflections of economic health than governmental data.
A recent Harvard study notes that "government datasets from agencies such as the U.S. Census Bureau have long been the gold standard for measuring economic activity at the local level. However, these statistics typically appear only after multi-year lags, and the public-facing versions are aggregated to the county or ZIP code level. In contrast, crowdsourced data from online platforms such as Yelp are often contemporaneous and geographically finer than official government statistics."
Keep up the good work Charlotte! 
Comments
comments