Hype Fitness, Charlotte's first DNA-testing fitness and lifestyle center just opened in the heart of Myers Park. The 2,000 square foot industrial-chic facility takes a radically new approach to getting the results people want for fitness, nutrition, and lifestyle goals – DNA testing.
Nutrigenomics, the study of the effects of food on gene expression, is one of the fields at the forefront of research and represents the fundamental basics of optimal health. Genetic testing gives the trainers and coaches at Hype a deep understanding of how certain exercises and diets uniquely affect their client's body functions.
Hype Fitness is the first facility in Charlotte to bring an all-inclusive nutrition and fitness program based on  DNA testing that focuses on 4 factors measured :
1. Fitness
2. Nutrition
3. Performance
4. Behavior
From your DNA test results a personalized fitness and nutrition program is created to get you the best results specifically for you and what your body needs.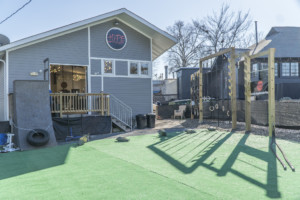 Here are a couple recent reviews from Hype clients;
"The genetic profile report provided information about much more than just weight loss, as that section of the report actually only made up a couple of pages of all of the information I was presented with. I now had the answers to things like what kind of exercise my body best responds to, or the most optimal caloric intake for my body to be able to release weight with. It presented me with reasons for any cravings or aversions I may have to foods. Beyond food and exercise, I now had information based on my genetic make-up about the amount of sleep I require.
My continually decreasing numbers on the scale are not a result of losing temporary water weight or muscle degeneration from lack of nutrients. I have been shedding fat. I feel healthy and energized. Surprisingly, I don't feel like I've been dieting. Or denying myself at all for that matter. I am seeing RESULTS. I can't say that it's effortless, but with the genetic report and Tracey and Nancy's help it has been easy." – G.F.
"For years I have tried to gain muscle mass and build endurance. Always falling short I decided to try the DNA testing at Hype Fitness. When I received the results I realized through the performance and fitness results what I was doing wrong. After changing my strength training and cardio around the DNA results I have finally gained 5 lbs muscle mass and am able to complete a 10k in the top 5% of my age range. The test results are in-depth and allow you to learn what you need to be doing to change, modify or start the correct fitness and nutrition program for you." – Don
Interested in learning more? Check out Hypecharlotte.com, contact Tracey Angiuoli at 980-859-7868, or stop by their main facility at 2318 Crescent Avenue, Charlotte, NC 28207
Comments
comments