More good news for sports fans in Charlotte!
The Queen City just made the cut in the first round of the selection process for the 2026 World Cup host city.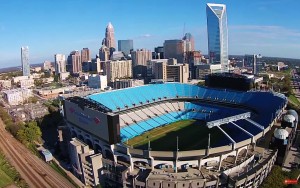 The United Bid Committee just released there reduced city list, which now includes just 32 potential North American cities (14 have were removed from the previous list).
The list includes 25 cities in the United States, 4 in Canada, and 3 in Mexico.
The next step for the bid committee will be to meet with representatives from the 32 selected cities in Houston next month for a "working session", according to their press release.
"The Official Host City selection process takes into account various factors such as city profile, stadium and support facilities (training sites, hotels) and services (e.g., transportation). The United Bid Committee also looked at ways each city could contribute to a united hosting strategy for the 2026 FIFA World Cup™ including their contribution to the sport's development and the United Bid's vision – not only during the tournament, but in the eight-year build up and the social, economic, and environmental legacy."
If Charlotte won, the games would take place exclusively in Bank of America Stadium, with a total a capacity of 75,000. The World Cup would bring in tens of thousands of people from around the world during the weeks before and after the event and millions of dollars of additional revenue for local hotels, restaurants, and shops.
The Charlotte Regional Visitors Authority is currently in control of Charlotte's bidding process, with full support of the city staff and Mayor Roberts.
Excited that Charlotte has made the short list of cities to be considered for the 2026 FIFA World Cup!

— Mayor of Charlotte (@CLTMayor) October 4, 2017
Charlotte is now competing against;
Edmonton, Alberta
Montréal, Québec
Toronto, Ontario
Vancouver, British Columbia
Guadalajara, Jalisco
Mexico City, Mexico
Monterrey, Nuevo León
Atlanta, Georgia
Baltimore, Maryland
Boston, Massachusetts
Cincinnati, Ohio
Chicago, Illinois
Dallas, Texas
Denver, Colorado
Detroit, Michigan
Houston, Texas
Kansas City, Missouri
Las Vegas, Nevada
Los Angeles, California
Miami, Florida
Minneapolis, Minnesota
Nashville, Tennessee
New York/New Jersey
Orlando, Florida
Philadelphia, Pennsylvania
Phoenix, Arizona
Salt Lake City, Utah
San Francisco Bay Area
Seattle, Washington
Tampa, Florida
Washington, DC
FIFA will make their final decision next June.
Would you like to see the World Cup come to the Queen City?
Comments
comments