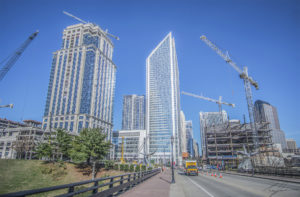 According to new Census Population Estimates, Charlotte is now the 16th largest and the 5th fastest growing city in the nation.
Charlotte's jump to the 16th largest city (with a population of 872,498) is big news, considering that we've been stuck at the 17th spot for the past 4 years. We're now about 5,000 residents bigger than Indianapolis and about 5,000 residents smaller than San Francisco.
The South and West were shown to have the highest growth figures for the past 12 months. The top 15 fastest growing cities included 8 in the South and 6 in the West. The top 5 were; Phoenix, Ariz. (25,288 increase), San Antonio, Texas (20,824 increase), Fort Worth, Texas (19,552 increase), Seattle, Wash. (15,354 increase), and Charlotte, N.C. (13,151 increase).
Census estimates also saw the Charlotte-Concord-Gastonia metro area move up from the 24th largest to the 23rd largest in the nation since 2010, fueled largely by our massive suburb growth.
Fort Mill was our metro's fastest-growing town, with a 13.2% annual growth rate, which was over double the rate of the next 3 fastest growing towns, including Waxhaw, Tega Cay, and Clover.
What do you think about our city's new ranking and continued growth?
Comments
comments