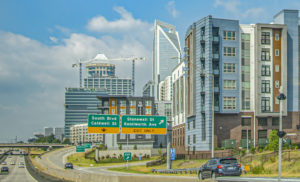 If one of your goals for 2023 is upgrading to a newer apartment, Rent Cafe's latest report, which ranks the best cities for renting new apartments, will surely be helpful.
The report found that Charlotte is the 3rd best place in North Carolina — and the 5th among the country's largest cities — for finding new apartments in top quality locations this year. That's mostly due to an impressive increase in new apartments in the last decade and a greater share of new units located in top quality neighborhoods compared to other cities nearby.
Here's why Charlotte ranks so high:
Charlotte's stock of new apartments expanded by 52.1% in the last 10 years, as a response to the increasing demand for housing. A total of 14,754 units were built between 2012 and 2021, which is by far the largest number in the state.

Notably, 34.4% of these apartments are located in top quality neighbourhoods, offering an average of 921 square feet of space.

What's more, 6% of the rentals built in Charlotte in the last 10 years are still vacant, so finding a place to call home in the city in 2023 should be less challenging than in Durham or Wilmington, for example.
Nationwide, we've seen a 36.6% increase in the number of new apartments, one-third of which are located in top neighborhoods. These newly built rentals offer 930 square feet of space, on average, but almost all of them (96.6%) are occupied.
Comments
comments