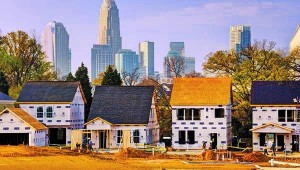 November data from Canopy MLS served to underscore why Charlotte ranked third in Realtor.com's Top 10 Housing Markets of 2021. The Charlotte region's streak of year-over-year positive sales gains continued this past month with 4,243 properties sold, an increase of 10.8 percent over the number of homes sold in November 2019. These are completed transactions that include single-family homes, condos and townhomes. Realtor.com notes that the region's growing tech hubs, relative affordability and younger households will continue to drive growth and sales momentum into 2021.
The pandemic, which pushed sales into the second half of the year, has not interrupted the 16-county region's growth or the pace of home sales ahead of the holidays, which is typically a slower time. Year-to-date (YTD) figures show 2020 sales outpacing the same period from 2019 by 4.2 percent with 49,010 properties sold over the course of the past eleven months, an increase of nearly 2,000 more properties over the same eleven months of sales in 2019.
Pending contracts signaled buyer demand for homes throughout the region remains strong, rising 26.4 percent year-over-year as 4,509 properties went under contract during the month. The number of contracts written in November 2020 shows sales should be steady entering 2021, with most contracts closing over the next 45-60 days. Year-to-date figures show contract activity ahead of the first eleven months of 2019 by 8.5 percent, even as homes continue to sell faster and at high monthly price points than ever before.
Sellers throughout the region continued to show confidence in the market, adding 4,036 new listings in November, which is a 7.9% increase over November 2019. This was the third consecutive month of year-over-year positive new listing activity. Year-to-date figures show 2020 new listing activity has been weak overall compared to 2019, however, and is down 2.9 percent as the pandemic reduced in-person showings over the last eleven months. This resulted in real estate agents and sellers adjusting to the market with virtual tours, showings and digital floorplans to show properties.
Inventory was down 52.4 percent year-over-year at report time to 4,554 homes for sake, or 1.0 months of supply. November's original list price to sales price ratio of 98.9 percent, however, should continue to buoy sellers, who are getting nearly all of asking price. And with days on market in November 2020 averaging 24 days, buyers will continue to see homes sold almost as quickly as they are listed, even into the new year.
In addition to the double-digit sales growth throughout the Charlotte region, both the median sales price ($290,000) and the average sales price ($349,562) increased year-over-year by 13.7 and 14.2 percent, respectively. However, year-to-date figures show price growth overall for both indices is still in single digits, with the year-to-date median and average sales prices up 9.8 percent and 9.9 percent, respectively, over 2019's prices.
"As we come to the end of a challenging year, I'm proud of the work area Realtors have done to stabilize and grow our market," said Canopy MLS President John Kindbom. "The resilience agents showed as they assisted buyers and sellers during the pandemic has certainly aided our local economy. While we still have concerns surrounding affordability and accessibility of the region's housing stock, the continued strength and stability of our market is crucial as we head into 2021."
Charlotte Stories is continually partnering with the best real estate agents in every part of the Charlotte region.
If you're thinking about moving in or around Charlotte, let us connect you with a top agent in your area by filling out the form below:
Comments
comments