Charlotte Hornets Players Get A Strong Pep Talk From Michael Jordan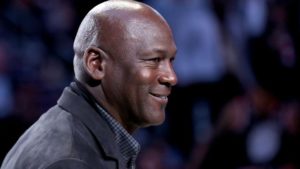 Recently in the news for his revealing comments and stories in Netflix's 'The Last Dance' documentary series about his days with Chicago Bulls, not to mention his commitment to donate $100 million toward social justice causes, Michael Jordan is in the news once again. Being the owner of the Charlotte Hornets, Air Jordan himself feels like now is the time to give his players a bit more motivation and turn them into a winning team.
Hornets players were given an hour-long video conference call by Jordan, in which the six-time NBA champion said that teammates should make each other accountable and not to shy away from uncomfortable talks and discussions about their play. Players were apparently told to call each other out and tell one another when they make mistakes. According to Hornets star Devonte' Graham, some conversations are necessary even if they are hard to hear. "That's going to make [our team] even better. You'll bond better. Your team is stronger. There is more of a respect level, instead of not saying anything and letting guys mess up over and over and over again, and you're losing and losing," said Graham.
The history of the Charlotte Hornets is a long and interesting tale. While the Hornets were popular and strong in the 90s, the team has never quite managed to build much success, and since Jordan took over control 10 years ago, Charlotte hasn't passed the first round of the playoffs. Still, the talk seems to have motivated the players and given them new heart. "A lot of guys on our team haven't played in the playoffs and don't understand the attention to detail you have to play with in the playoffs," said Hornets center Cody Zeller. "That was what I enjoyed hearing from MJ, especially as a younger team."
However, not everyone is the biggest fan of Jordan's direct method of communication, as even Hornets guard Terry Rozier admitted that Jordan would have likely annoyed him if they were teammates back in the 90s. "I feel like you have to pick your poison," Rozier said. "One thing with being teammates with guys in this league is you have to learn who they are first. Some people don't like to be confronted in front of others; some people you have to pull aside. So I feel like it is a mixture of learning your teammates and knowing when to call them out … so that people don't have a bad taste in their mouth about one another."
NBA Season To Begin Again Soon
Unfortunately, the Charlotte Hornets was not among the 22 teams asked to come back to finish the 2019/2020 NBA season on July 31st, which was put on hiatus during the coronavirus pandemic. The remaining season and playoffs will be played solely at Disney World, Florida, in an attempt to create a "bubble" venue that limits the risk of infection from COVID-19. If they haven't already, players and coaching staff must learn quickly about the right ways and when it's necessary to wash hands and the importance of wearing a mask when possible.
Although the aim is to crown an NBA champion around mid-October and start the new NBA 2020/2021 season on December 1st, we'll just have to wait and see how things play out. Of course, NBA fans will not be allowed to attend the arenas and everyone will be tested for the virus every day, but it will still be uncharted territories to play basketball during a pandemic. Time will tell how it will all work out.
Comments
comments