The Charlotte Hornets have just announced that they will be going all out next season to celebrate the 30th Anniversary of their inaugural 1988-89 season.
They want to remind fans of what the team was like when it first started, and many of ways the team has changed the city and contributed to our culture.
"We are excited to begin preparing to celebrate the 30th Anniversary of the inaugural Hornets season with our fans," said Hornets President & COO Fred Whitfield. "When the Hornets took the court in 1988, the city of Charlotte and the Carolinas were changed forever, and it is important that we acknowledge that beginning and those who have been a part of Charlotte's 30-year love affair with the NBA."
The anniversary season will include;
Appearances by legendary former Hornets players.
'80s and '90s-themed nights during home games.
30th anniversary logo
30th anniversary merchandise in the team store.
"Classic Edition" uniforms, which will be worn during select games.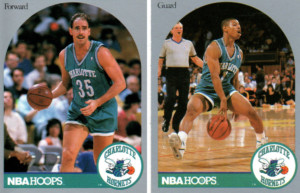 The Hornets played their very first game on November 4, 1988, becoming the first major professional sports franchise in the Carolinas. They led the NBA in attendance seven seasons and recorded a total of 364 consecutive sellouts between Dec. 23, 1988 and Nov. 21, 1997.
To cap off the historic 30th anniversary season, the Hornets home arena will host the 2019 NBA All-Star Game on the 56th birthday of owner Michael Jordan.
Comments
comments