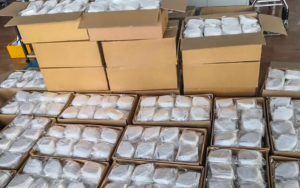 The Charlotte Hornets Foundation has donated $100,000 to the COVID-19 Response Fund, a community-wide effort to assist Mecklenburg County residents affected by the coronavirus pandemic that has already raised more than $15 million. The gift is part of a larger $250,000 commitment by the Charlotte Hornets Foundation to COVID-19 relief efforts.
In addition to the $100,000 to the Charlotte-Mecklenburg COVID-19 Response Fund, the Charlotte Hornets Foundation donated $25,000 each to three nonprofit organizations addressing immediate needs related to the pandemic – Carolina Farm Trust and Crisis Assistance Ministry in Charlotte and the Community Foundation of Greater Greensboro COVID-19 Emergency Response Fund. Greensboro is the home market of the Hornets' NBA G League affiliate. Additionally, the Hornets pledged another $75,000 to to-be-determined future needs resulting from COVID-19, which will be granted prior to the end of 2020.
"Although we may not be currently playing games or hosting events, Hornets Sports & Entertainment prides itself on being an active, engaged and compassionate member of this community," said Hornets President & Vice Chairman Fred Whitfield. "Through our Charlotte Hornets Foundation, we are proud to implement this three-pronged approach to assist with coronavirus relief efforts both immediately and in the future."
Foundation For The Carolinas and United Way of Central Carolinas launched the fund on March 16 to support a range of nonprofit organizations that are meeting the basic needs of those affected by the crisis – such as food, shelter, housing and emergency financial assistance. Individuals are urged to donate at HelpCharMeck.org.
"The generosity of the Charlotte Hornets Foundation is greatly appreciated in this time of crisis and need," said Foundation For The Carolinas President and CEO Michael Marsicano. "Through this fund, we've already donated nearly $3 million to 14 local nonprofit organizations who are struggling to meet increasing demands from people who need help. More gifts will be needed, but with generous partners such as the Charlotte Hornets Foundation, we will get through this pandemic together."
Donations have ranged from a two-dollar commitment from an anonymous online donor to $1.3 million from Mecklenburg County. Other gifts include $250,000 gifts from the Charlotte Mecklenburg Community Foundation, the Weisiger Fleming Family Fund and EY; $500,000 each from Ally Financial, the Duke Energy Foundation and the Knight Foundation; and $1 million gifts from LendingTree, the City of Charlotte, the Howard R. Levine Foundation, Truist Financial Corporation, Bank of America, the David A. Tepper Charitable Foundation, Lowe's, the C.D. Spangler Foundation, Coca-Cola Consolidated and the John M. Belk Endowment.
"As the needs of our community quickly escalate, generous donors such as the Charlotte Hornets Foundation are appreciated now more than ever," said United Way of Central Carolinas President and CEO Laura Yates Clark. "We already see the affect this crisis is having on local nonprofits. With unemployment rising, social distancing continuing and parents struggling to provide for their families, many nonprofits are overwhelmed with requests for aid. This fund will help help provide these nonprofits the resources they need."
The fund is administered through a partnership between Foundation For The Carolinas and United Way of Central Carolinas, in close coordination with the City of Charlotte and Mecklenburg County.
To contribute to the COVID-19 Response Fund, visit HelpCharMeck.org.
Comments
comments