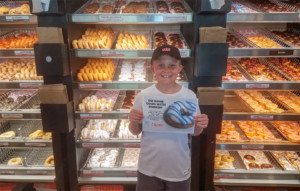 Dunkin' Donuts will donate 50 cents to the Bring It 4 Braylon Foundation for each Dunkin' Donuts limited-edition, Braylon-inspired donut sold May 13-19. The ring donut, which has white icing with blue-icing drizzle, is only being sold in the Charlotte metro restaurants. Braylon Beam, who is 9 years old, is a survivor of a brain tumor and became well-known in the area due to his spirited dances post-treatment.
The Charlotte Dunkin' Donuts started the donut fundraising campaign in May 2017 in honor of Braylon, and during National Brain Tumor Awareness Month, garnering almost $10,000 for the foundation.
"Partnering with the local Dunkin' Donuts again means that even more families who have a child battling cancer can enjoy some quality time together and financial relief during a very trying time," states Jesse Beam, Braylon's father. "That's because our foundation provides gas cards, groceries, trips and other gifts to the families. With Braylon's fun-loving personality, it only makes sense to do a fundraiser around something like DONUTS!"
More than 28,000 children (0-19 years of age) are estimated to be living with a brain tumor in the U.S.
Comments
comments