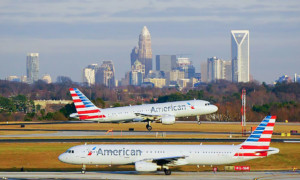 The biggest airline network in the world just announced 3 new direct-flight locations for the Charlotte Douglas Airport.
Starting on June 3rd, American Airlines will start running flights to Georgetown, Bahamas, Bangor, Maine, and Rapid City, South Dakota (near Mt. Rushmore). The flights will only run on Saturdays and will last until August 19th, unless demand warrants a permanent route.
Charlotte is also about to become one of the only test markets for American Airline's new basic economy fare for passengers who want a low-cost option.
American is currently the largest carrier at the Charlotte Douglas Airport – about 90% of the flights coming out of our airport (about 600 daily departures) are controlled by this one company. Charlotte Douglas is American's second-largest hub – they employ over 11,000 people here.
Tickets for their new destinations will be available on aa.com starting March 19th, 2017.
Comments
comments