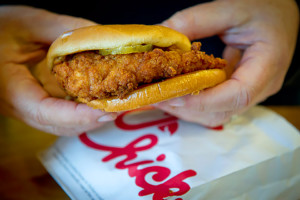 Starting this coming Tuesday (10/25) morning at 11am, the new restaurant delivery app 'Favor' will be delivering free original Chick-fil-A chicken sandwiches to anyone who wants one in certain parts of Charlotte.
On their announcement, they noted, " The sandiwch + delivery will be free of cost, but you will be expected to tip your driver."
To get a free chicken sandwich delivered to your door, all you have to do is open the Favor app on your smart phone or tablet and tap on the Free Chick-fil-A banner to order and enter the promo code CHICK when you checkout.
According to their website, delivery takes about 35 minutes in Charlotte and can be made to homes, businesses, or colleges, throughout Charlotte's Favor's delivery zone.
Favor is one of the newest food delivery services to come to Charlotte, they're now competing in the Queen City against DealDash, EAT24, Amazon's new AmazonFresh service.
Have you tried any of these food delivery services yet?
Let us know your thoughts in the comments below.
Comments
comments