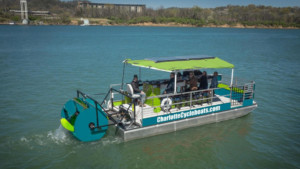 A new on-the- water experience is coming to Charlotte's surrounding waters with the launch of Charlotte Cycleboats LLC. The first-of- its-kind in North Carolina, this company is bringing a water-based spinoff of the oh-so popular land-based pedaling party pubs. Cycleboats provide a fun, new eco-friendly way to enjoy the water safely, with or without a beer in your hand.
Charlotte Cycleboats are designed to be operated as commercial tour boats on lakes and rivers and certified by the US Coast Guard. As riders pedal on individual cycle stations, together they propel a large paddle wheel in the back of the boat. The boat is always chartered by an experienced and fun captain at the back of the boat to steer and operate the electric motor when needed.
Set to get going mid-July 2017, Charlotte Cycleboats will be offering pedal tours initially on Lake Norman with more in the works along the Catawba River in Belmont and Lake Wylie to follow. The fun tours are ideal for friendly outings, birthday parties, family reunions, company outings among many other fun social get togethers. While Cycleboats can provide an awesome platform for a fun party, they are also great for team building, fitness groups and of course spin and cycle groups.
Rob Bennett, owner of My Aloha Paddle and Surf said, "we are excited to partner with this new company that builds on the passion of bringing fun and fitness activities on the water."
"I became more aware of the lack of fun activities on our beautiful lakes and rivers after growing Stand Up Paddleboarding in the Charlotte area," Bennett says. "Cycleboats are a perfect match to our current business and we are thrilled to be involved in another awesome experience and only the best customer service will continue to be our focus together."
Charlotte Cycleboats has commissioned a custom-built tour boat with a high-top table lined by five pedal stations on each side to fit 10 people. Then there is a four-person bench seat without pedals are also on the boat. The boat is powered by pedaling making it eco-friendly, but there is an electric motor for backup and emergencies, with solar panels on the canopy roof for regeneration. Guests only need to bring their favorite beverage and snacks. Only beer or wine, no liquor is permitted.
Charlotte Cycleboats will release more plans to offer tours from 90 minutes to three hours. Hints of a Local Craft beer Cruise, an extended dinner cruise, lake history cruise, local wineries sponsored wine tasting cruise and more to be announced.
Reservations are now being taken for the 'Whole Boat' 2 Hour private, chartered Cruises for up to 15 people.
You can reserve a Cycleboat or find out more on CharlotteCycleboats.com
Comments
comments