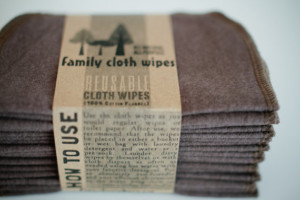 A small startup in Charlotte is now trying to change the bathroom game and save the environment at the same time with a new product called 'family cloth'.
Family cloth, for those of you who aren't from Asheville or Boone, is a polite euphemism for "reusable toilet paper." Basically, you use the cloth wipes, drop in a bucket instead of the toilet, launder them, and repeat the cycle.
Charlotte's own Creekside Kid now sells a wide variety of their 'family cloth wipes', in a range of colors, patterns, and fabrics.
They note on their page that, "Moving toward a zero waste and minimalist lifestyle just got easier with Creekside Kid! We're here to help you make the switch from disposable to reusable as simple as possible."
According to a report by sustainability site The9Billion.com, "each tree can only make about 1,000 rolls of toilet paper. Americans now use 7 billion rolls a year, which means that we're now killing 7 million trees a year to clean our rears."
Creekside Kid first started selling reusable 'family cloths' alongside their reusable baby wipes last summer after being inspired by Ecoy products and were surprised when the trend started to take off.
A growing number of families across the country are now making the shift;
What do you think about Creekside Kid's new 'family wipes'?
Would you ever consider using reusable toilet paper?
Comments
comments