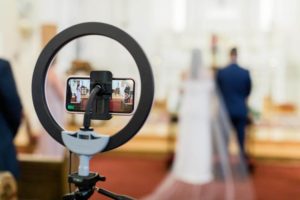 2020 has been a whirlwind year for engaged couples who are navigating ever-changing COVID restrictions, rescheduling, and replanning their special day. And that's not even including the annual stressors that the holiday season brings.
This is why the Charlotte-based company, Bustld, launched LoveStream, a virtual wedding platform, in April 2020. Since its launch, the one-way streaming platform has enabled hundreds of couples to celebrate their big day virtually with their loved ones from all around the world, in a safe way.
On their wedding day, LoveStream enables couples to live stream their wedding from any personal device with a webcam while handling the complicated tech. For guests, they simply click a URL to watch. With no app to download, no logging in and no admitting guests, LoveStreram is so easy grandma can do it.
With the theme of this year being virtual, they are offering a special deal each day of Thanksgiving weekend:
Black Friday – Purchase any LoveStream package, receive an additional 30 minutes of stream time and custom virtual invitation for free ($150 value)
Small Business Saturday – Purchase a LoveStream Plus or Premium package, receive an additional stream (more angles to capture the big day!) and custom virtual invitation for free ($250 value)
Sunday Special – Purchase any LoveStream package, receive a free website rush and custom virtual invitation ($100 value)
Cyber Monday – Purchase the LoveStream Premium package, receive $200 off
For more information, you can visit their website here or purchase here.
Comments
comments