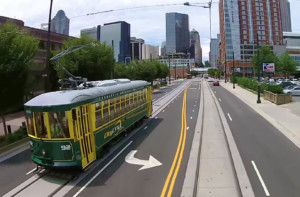 Charlotte's City Council just voted almost unanimously to approve the new $94 million Gold Line expansion to the west of Uptown.
Phase 2 of the CityLYNX Gold Line Streetcar project was approved by an 8-2 margin after a lenthy discussion as to the pros and cons of spending $94 million for a new street car line – and after the evidence of the current street car's sub-par usage was examined.
The new Gold Line extension will include a 2.5 mile west extension toward Johnson C. Smith University.
Here's a video of the current street car in actions:
Last night, the City Council also approved the purchase of six new hybrid streetcars and spare parts for up to $40 million. The new cars will add on-board batteries that will allow them to operate off-wire from the Gold Line's system.
City leaders have commented that phase 2 of the gold line will be an essential part of the Metropolitan Transit Commission's 2030 Transit Corridor System Plan for Charlotte's Central Business District.
Phase 2 of Charlotte's Gold Line is now expected to be complete by Fall 2020.
Comments
comments