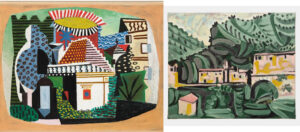 Charlotte's own Mint Museum has just announced plans to host a sweeping Picasso exhibit in honor of the 50th anniversary of his death. Charlotte will be the only city on the East Coast and one of only 3 cities in America to host the historic exhibit.
According to a press release from the Mint Museum, "Picasso Landscapes: Out of Bounds will be organized into sections, which address various phases, approaches, or themes in the artist's landscape painting, and which yield new insights into his creative production and broader involvement with the world of his time. Through this in-depth study of Picasso's diverse landscapes, it becomes possible to reclaim the genre's primacy in his work and to affirm his keen focus on the shifting twentieth-century cultural backdrop."
The exhibit will feature over 40 paintings that span Picasso's entire career – the first traveling exhibit to cover this many pieces from the master.
The Charlotte exhibit will start on February 11th and run through May 21st.
Tickets are now on sale for $25 each here.
Comments
comments