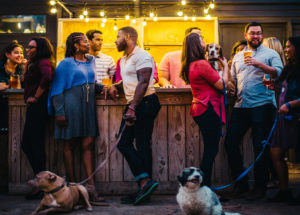 This April, Charlotte salutes the brewers who have pioneered its local craft beer scene and welcomes the newcomers who have arrived just in time for the seventh annual NC Beer Month.
With almost 60 breweries in the region approximately 15 under construction or in planning, the Queen City's brewery scene is continuing to experience tremendous growth and diversity of offerings. In addition to NC Beer Month, Charlotte will also be celebrating the 10th annual Charlotte Craft Beer Week. Throughout the week, which kicked off on March 29 and runs through April 7, local breweries such as Birdsong Brewing Co., NoDa Brewing Company and The Olde Mecklenburg Brewery will be participating in and hosting special events all over the city.
As a grand finale to NC Beer Month, Bank of America Stadium is partnering with Untappd to host its first beer festival on Saturday, May 4. Over 160 local and national brewers will be participating including Bold Missy Brewery, Lenny Boy Brewing Company, Pilot Brewing Company, Westbrook Brewing Co., Dogfish Head Craft Brewery, New Belgium Brewing Company, Brewery Ommegang, 21st Amendment Brewery and many more.
Below are a few more ways locals and visitors can experience and celebrate Charlotte's growing craft beer culture this month.
CLT Clash of the Crafts: This March Madness-style bracket seeks to crown the people's choice champion of Charlotte's craft beers. CLT Clash of the Crafts kicked off Monday, April 1, and a winner will be announced on Wednesday, May 1. Beer bracket divisions include: Hoppy, Malt/Roast, Crisp and Funky/Fruity. Visit cltontap.com to cast votes for the CLT Clash of the Crafts contenders and see below for the upcoming voting schedule:
Half Growler 32 Voting: April 1-6
Sweet 16 oz. Voting: April 8-13
Tailgate Eight Voting: April 15-20
Final Four Pours Voting: April 22-25
CLT Clash of the Crafts Championship Voting: April 26 – 29
2019 CLT Clash of the Crafts Champion Announced: May 1
Social Tap Takeovers: As part of NC Beer Month, Charlotte breweries will take over the 'Charlotte's got a lot' Instagram account throughout the month, giving 'Charlotte's got a lot' followers an insider's view of each brewery and its events. Be sure to follow @charlottesgotalot for a behind-the-scenes look at the following breweries:
Hoppy Happenings: Throughout April, Charlotte will be brimming with events that showcase the city's burgeoning craft beer scene. Release parties, beer dinners, festivals, tastings and more will fill the city's calendar, showcasing a penchant for pints. Notable events this month include:
Comments
comments