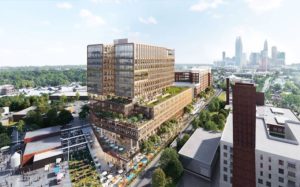 Using OKRs for local businesses is as important as it is for larger businesses. OKRs are capable of being tailored to meet every company's needs out there, no matter its size or degree of influence. Here we focus on Charlotte, North Carolina, and address how OKRs can be used to meet local market endeavors.
Aren't OKRs Really Advanced?
It's easy to be intimidated by the OKR framework given its association with Silicon Valley. Tech Giants the world over have praised the strategy for company successes. Despite these stories, however, industry guru, John Doerr, has stated that OKRs are applicable for any business. In Charlotte, following the recession and shuttering of establishments, many people suffer unemployment. Getting businesses back on their feet is a critical goal this year, and OKRs can play a crucial role in this process. 
Business Recovery OKR Examples 
OKR examples for Charlotte-based businesses could be:
Objective: Increase number of workers by October  
Key Results: 
1). Advertise on ad-placement sites for job openings 
2). Use promotional advertising like benefits, paid tuition, and opportunity for advancement to gain interested applicants. 
3). Create a small fee picnic fundraiser to support local businesses
Objective: Gather donations to benefit local business
Key Results: 1) Run a donation drive for x months 
2). Create a walk/run marathon event with entrance fee 
3). Start a crowdfunding campaign for local businesses 
Using OKRs also allows for greater communication between team members. Local businesses getting back into the game will be more in tune with one another and will be able to discuss goals and objectives. When everyone is like-minded toward intentions, it is much easier to progress because everyone is on the same page.
What are the Benefits? 
Integrating OKRs into Charlotte-based businesses will create unity among team members. When everyone is working towards a common goal, one's importance and purpose is felt, and dedication grows. This added purpose instills further motivation and commitment to the team. 
OKRs and Charlotte Businesses 
To begin integrating OKR strategy into Charlotte-based businesses, align company objectives. With everyone working towards the same strategy, new opportunities will be opened up from the bottom to the top line. When all team members are given equal footing, more opportunities will open up, and avenues for restoration will transpire faster. In crisis, people work together. Restoring a local economy is no different. Charlotte businesses will need to rely on one another to recover and prosper. 
Local markets from the food to the tourism industry should create a written timeline covering their OKR plan of attack. The plan should include the following: a timeline for OKR creation and a flow chart explaining how staff members will work on various tasks to achieve the larger, company-wide goals. 
Using OKRs is the perfect strategy for Charlotte-based businesses and that goes for any local community in economic recovery. OKRs can be customized to the individuality of every business making it an integration to highly consider.  
Comments
comments