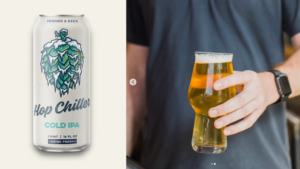 This weekend, Charlotte's own Legion Brewing received news that its brand-new "Hop Chiller" Cold IPA took home a Gold award in a national beer competition hosted by the 2022 Great American Beer Festival (GABF).
GABF's competition, professionally judged and recognized by brewers worldwide, only awards the difficult-to-achieve gold medal to beers that earn this symbol of brewing excellence, with ideal taste, aroma and appearance.
Many people are familiar with India Pale Ale (IPAs for short) beers, but some may have lesser familiarity with the "Cold IPA" sub-category, which is a hybrid IPA, typically with a golden color, hop haze and clean malt profile, like some West Coast varieties. Legion's Hop Chiller is fermented at a lower temperature than normal, giving it a distinct taste from other brews.
Hop Chiller won GABF's "Gold" award for 2022 in the Cold IPA category over similar entries from more than 50 other competitors. It was also the only traditional IPA style beer from a Charlotte brewery to take home a gold award.
Comments
comments