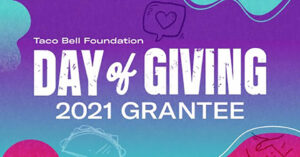 The Salvation Army Boys & Girls Clubs of Greater Charlotte has just been chosen as Taco Bell's official 'Day of Giving 2021 Grantee'. The designation awards the local charity a total of $14,700 to support kids in our area achieving their dreams. The money will specifically go toward career readiness programs at the Clubs, providing teen members access to learning opportunities and other programs that inspire the next generation of leaders.
"We are honored to partner with the Taco Bell Foundation in championing the educational dreams of our young people," said Charlotte Boys and Girls Club Director Marty Clary. "The vision we share with the Taco Bell Foundation is one in which every young person has access to quality education and the resources they need to create good."
Today's grant is an example of the Taco Bell Foundation's mission to fuel young people's boldest educational ambitions.
"We are proud to support like-minded organizations through our Local Grants Program," said Jennifer Bradbury, Interim Executive Director of the Taco Bell Foundation. "Together with these organizations, we work to break down barriers so students nationwide can continue creating and innovating."
Comments
comments