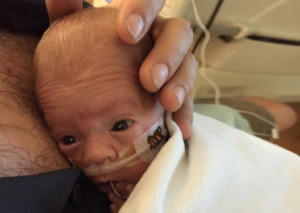 Finn Koenig is now a healthy and active miracle child. The young toddler was born last year nearly 14 weeks premature at Carolinas Medical Center – he was born after only about 24 weeks of development, weighing in at just under 1 pound.
After a routine ultrasound at 22 weeks, doctors discovered significant complications in the pregnancy and little Finn had an emergency birth at only 24 weeks.
He was quickly whisked to the neonatal intensive care nursery where the skilled staff at the Levine Children's Hospital used the most advanced technology to keep him alive.
113 days after his premature birth, doctors felt comfortable enough to send him home, and now about 6 months later, little Finn is healthier than ever.
The Koenig family recently launched a fundraiser for the Pierces Project, a non-profit fund managed by Presbyterian Healthcare Foundation designated to support families of extremely premature infants in the Neonatal Intensive Care Units in Charlotte, NC.
"Hi I'm Finn and I was born as a 1lb 10oz micro preemie at 24.6 weeks in March 2015. I fought 113 days in the NICU of Levine's Children Hospital and there is a lot to tell you about it. My parents were pretty devastated about my early exit and absolutely not prepared for my stay in the NICU. There was very little hope until someone delivered a little bag to their hospital room and ultimately gave my parents the hope that we would all leave the hospital together. You wonder who's bag that was? It was a information package from Pierces Project. That package showed them that there is light at the end of the tunnel. From there we started our journey to discharge, and it wasn't always a smooth ride since preemies are notoriously bad drivers. During that time we met some very special people; words cannot express the gratitude we feel for them. It was Pierces Project, the doctors, nurse practitioners, nurses and other preemie parents who helped us through the tough times. The NICU is not a happy place but you can have a happy ending and the support we received played a big part in reaching that end. I hope I'm able to raise a little bit of money so that other preemies and their parents get the same support as I did. Thank you all for everything…"
If you'd like to find out more about their fundraiser, or if you'd like to donate, you can click here.
Comments
comments