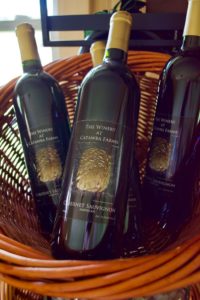 The Charlotte region's Catawba Farms Winery just took home the Best in Show award yesterday at yesterday's North Carolina State Fair Commercial Wine Competition.
Their 'Bunker Hill Covered Bridge Red Blend' also received a Double Gold Medal in the competition. The Bunker Hill Covered Bridge Red Blend wine was produced by winemaker Josh Fowler with locally sourced fruit. Catawba Farms donates a portion of the sale of each bottle to the Catawba County Historical Association.
Located at 1670 Southwest Blvd (Business 321) in Newton, NC, the Catawba Farms Winery opened in August 2017. Situated on the farm's 34 acres the Winery operates a Tasting Room with a vineyard that currently includes Chardonel and Catawba grape varietals. A brewery is under construction and is expected to open later this year.
Catawba Farms was previously the home of the Sigmon family and their Belgian horses. Catawba Farms also includes the Peacock Inn, a 5-bedroom Bed & Breakfast, outdoor event space venues for parties and other celebrations, and the Sunflower Market, an outlet for locally grown food and crafts.
Comments
comments