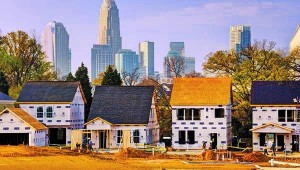 According to the latest data released by the Charlotte Regional Realtor Association, the home sales in our region have increased by an astounding 11.5%, compared to March of last year.
The average sales price ($271,351) also increased by 10.4% compared to March of last year ($245,800). Our market has now witnessed one of it's best months in virtually all categories:
"The spring selling season is definitely off to a good start with sales up 11 percent and homes selling almost as quickly as they're listed. Buyers are still challenged with low inventory across the region, which means price increases and multiple-offer situations can happen," commented Roger Parham, the association's president in a recent press release.
The inventory in our region has been shrinking for the past few years now, as new home construction hasn't been able to keep pace with the steady stream of new people moving to our area. Our dwindling supply of homes also causing prices to continue to increase, while our wage growth is hardly keeping pace. Average home prices for Mecklenburg County have now increased by a total of 32% since 2010.
How do you feel about our current real estate boom?
Comments
comments