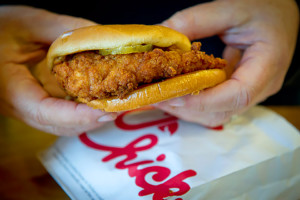 Round 2 of the fast-food chicken wars is officially here.
This time, instead of fighting over who has the best chicken sandwich, 3 Charlotte-area chicken brands are fighting over who can offer the most free chicken to kick off 2020.
The first giveaway was announced by Chick-fil-A yesterday morning.
According to their official press release, Charlotte-area Chick-fil-A is offering a free nugget giveaway that will run from January 13th through the 31st. "All you have to do is simply sign into your Chick-fil-A One™ account on the Chick-fil-A App. Once you're in, you can find the giveaway offer under your rewards (limit one per customer) and redeem it in the restaurant, drive-thru or when placing a mobile order."
Just hours after Chick-fil-A's giveaway was announced, Popeyes tried to outdo them by announcing an even bigger giveaway.
According to Popeyes' announcement, Charlotte-area locations will offer a free chicken sandwich combo from Jan. 13-19, including a full-sized chicken sandwich, a signature side, and a small drink.
To have the free meal delivered to your door with no delivery fee, enter the code "CHICKENWINNER" at checkout on the DoorDash App.
The best awards are the ones you can eat. https://t.co/77XEXATexK

— Popeyes Chicken (@PopeyesChicken) January 13, 2020
Not to be left out this time, Zaxby's joined the battle by offering a free meal to anyone who downloads their new app;
— Zaxby's (@Zaxbys) January 13, 2020
Comments
comments