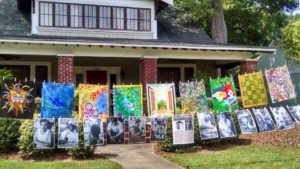 For one day, front yards around Charlotte, and now – York County will boast art installations of all kinds.
On Labor Day, Monday, September 7, 2020, Yard Art Day and the Arts Council of York County invite YOU to fill your yard with art that you have created. Paintings, sculptures, sidewalk chalk, fabric, performance art, anything that expresses your creativity — it all counts!  The only requirement is that your art be seen from the street or sidewalk. If you don't have a yard – put it on a balcony, in a window, on your car, or even in a friend's yard (with permission).
Charlotte has been hosting Yard Art Day. This grassroots arts exhibition is curated by the community, for the community. You don't have to be a professional artist to take part. Businesses, communities, school gardens, schools, churches – anyone can participate.
QUICK DETAILS
LABOR DAY | MONDAY, SEPTEMBER 7, 2020
REGISTRATION DEADLINE | FRIDAY, AUGUST 28, 2020

Those who register after August 28 may still participate however, their sites will not be listed on the official Yard Art Day map.

More information on Charlotte's Yard Art Day Here – https://www.yardartday.org/
More information on Rock Hill's Yard Art Day Here – https://www.yorkcountyarts.org/yardartday
Comments
comments