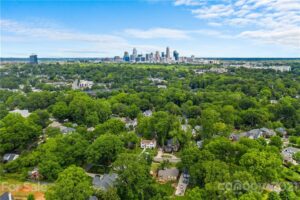 Homebuyers are finding themselves in a tough spot. With
mortgage rates
now over 6.0% and unlikely to fall in 2023, the cost of buying a home has dramatically increased.
But the mortgage payment is not the only concern. Other expenses such as closing costs, taxes and insurance can take a lot out of a buyer's budget.
Their findings show that Charlotte ranked as the 11th most expensive city for the first year of homeownership, more expensive than even Chicago (#12) and Dallas (#13).
How Much Does the First Year of Homeownership Cost in Large U.S. Cities?
Upfront Costs

Annual Recurring Costs

Year 1:

1
San Francisco, CA
$316,439
$7,938
$91,066
$1,774
$9,780
$426,997
2
San Jose, CA
$288,955
$7,647
$83,157
$1,774
$10,402
$391,935
3
Los Angeles, CA
$193,199
$6,567
$55,600
$1,774
$6,859
$263,999
4
San Diego, CA
$192,376
$6,555
$55,363
$1,774
$7,022
$263,089
5
Seattle, WA
$190,589
$6,304
$54,848
$1,178
$8,576
$261,495
6
New York, NY
$152,304
$19,625
$43,831
$1,500
$14,659
$231,918
7
Boston, MA
$146,771
$5,990
$42,238
$1,770
$5,064
$201,833
8
Austin, TX
$132,476
$6,732
$38,125
$2,554
$11,724
$191,611
9
Denver, CO
$125,318
$4,863
$36,064
$3,383
$3,509
$173,137
10
Phoenix, AZ
$84,095
$4,248
$24,201
$1,378
$2,481
$116,403
11
Charlotte, NC
$76,771
$3,606
$22,093
$1,407
$3,647
$107,524
12
Chicago, IL
$63,098
$7,405
$18,159
$1,355
$6,594
$96,611
13
Dallas, TX
$64,101
$4,529
$18,447
$2,554
$5,897
$95,528
14
Fort Worth, TX
$63,465
$4,510
$18,264
$2,554
$6,156
$94,949
15
San Antonio, TX
$58,059
$4,289
$16,708
$2,554
$5,777
$87,388
16
Jacksonville, FL
$58,876
$5,186
$16,943
$1,977
$2,649
$85,631
17
Houston, TX
$52,307
$4,119
$15,053
$2,554
$5,074
$79,107
18
Philadelphia, PA
$46,612
$8,404
$13,414
$899
$2,261
$71,590
19
Columbus, OH
$47,261
$3,541
$13,601
$1,299
$4,490
$70,192
20
Indianapolis, IN
$44,102
$3,009
$12,692
$1,214
$2,227
$63,244
The full report, including key findings, methodology, and an infographic, can be found here: https://smartasset.com/data-studies/how-much-does-the-first-year-of-homeownership-cost-in-large-us-cities-2022 
Comments
comments