After 12 years of focusing primarily on general brokerage sales, The David Hoffman Group, Inc. (dba. DHG Network across the country) is now the face of new home sales.
On-site Partners is the new builder division based out of their headquarters in Charlotte, NC, and led by owner and founder, David Hoffman, and former new homes executive and current DHG broker, Brian Jordan.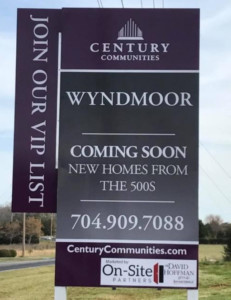 "Leading with the principles of each client relationship being crucial to us, we look forward to partnering with like-minded builders within the communities that we serve across the country.  Our builder partners are finding our hundreds of years in real estate experience, coupled with Brian's new home sales experience and leadership to be invaluable to the client" says David Hoffman.
"Coaching, training, recruiting, hiring, and replacing agents is managed by DHG.  Compensation for an entire sales management department is eliminated and the client benefits from our top-producing experienced agents and brokers" says David.
David continues to say that "the platform for builders is an attractive model in today's market for many reasons, right now the market is strong but during a shift in the market, or recession this model becomes even more effective"
"When we were looking at entering the Charlotte market, we wanted to partner with an established real estate firm; one that had both new construction and general brokerage experience, while leading with customer experience and relationships. We also value the sales training, coaching, and agent force needed to serve our clients fully. This is what David and Brian, and the team at DHG have to offer.  It's a great partnership for all parties involved," says Rick Caruthers, Executive Vice President of Century Communities.
"Meeting Street chose The David Hoffman Group, Inc. and On-Site Partners for multiple reasons.  One, we wanted to improve the buying experience for our customers.  Two, we wanted to have new home sales people, not just a listing agency, to pay attention to the small details that could be the tipping point for additional sales, and three, DHG provides the type of support we wanted to have for our group of sales people. Meeting Street, and the group at On-Site Partners and DHG have similar core values and business practices that are of great importance to both companies.  We have been very pleased with the addition of DHG to Meeting Street," says Abe Lehman, General Manager at Meeting Street Homes and Communities.
The vision is to expand the builder division into as many locations where DHG is currently located, as well as in future locations not yet determined. This model will improve the quality of service and expertise provided to the consumer, while lowering the risk for unbuilt lots, and bringing jobs to the communities where they serve.
Comments
comments