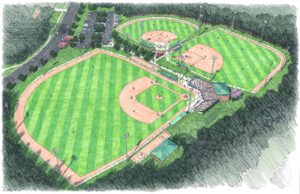 The Knothole Foundation and Veterans Bridge Home host a softball tournament on Saturday, January 25, 2020, featuring players from the Army, Navy, Air Force and Marines. In addition to former service members, teams will be filled with local celebrities, politicians and former Major League Baseball players. The event is scheduled from noon to 3:00pm at 7531 Tuckaseegee Road, Charlotte NC 28214.
Players include Joan Higginbothan, one of only three African-American female astronauts in the world; Jack McDowell, former Cy Young winner; Braxton Winston, Charlotte City Councilmember; Mark Jerrell, Mecklenburg County Commissioner and DJ Ace of 92.7. The former military members who have made many sacrifices while serving are the real stars of this tournament.
This unique event promises to be fun for the entire family, everyone is invited. Kids can play in bounce houses, interact with the teams and enjoy free food and drink.
Veterans Bridge Home is a regionally based organization that connects Veterans and their families, in any state of transition, to the community. Through our network of partners, we help Veterans navigate employment, create social connections, and settle their families. We look at the whole Veteran and connect them to the resources needed to be successful and thriving leaders in our community. For more information about our mission and what we do, visit www.veteransbridgehome.org.
The mission of The Knothole Foundation, Inc. is to create life opportunities for underserved youth in West Charlotte by providing access to facilities, education, mentoring, life-skill services, health and wellness programs, scholarships, skills instruction, and collegiate visibility. In so doing, they develop the skills and abilities of underserved youth to the highest level and pave pathways to a more prosperous future and community.
Event sponsors are American Airlines, Adams Beverage, Blossman Gas, Coca-Cola Consolidated, First Horizon Bank, Husqvarna, Publix and US Bank.
Comments
comments